A dental implant is a common solution for replacing a missing or damaged tooth. Traditionally, the dental implant is installed in the jaw, followed by a healing period before the denture is attached. However, an increasingly popular method called "Immediate loading of dental implants" allows for faster installation and fixation of the denture.
Any Question ?
Get in Touch.
We're Here to Help.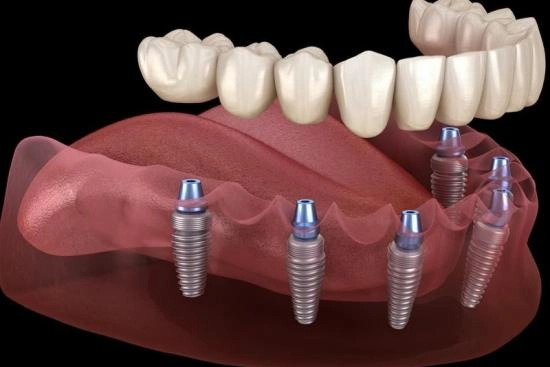 Who is this procedure for?
People with missing teeth who want to replace them quickly and efficiently
People with a strong and dense jaw to support the implant
People with good general oral health
Side effects
Infection
Implant failure
Damage to surrounding soft tissue
Pain
Alternative treatments
Removable prosthesis
Cantilever Bridge
Orthodontics
Intervention or treatment's duration
The implant is completely restored in 48 hours
The accuracy of the content has been reviewed by our Medical Commission.
What is the immediate loading of dental implants?
Immediate loading of dental implants is a technique that allows a single or complete dental prosthesis to be attached to an implant. It is performed immediately after the implant is placed, without having to wait for the jawbone area to heal completely. This technique reduces the risk of failure of osseointegration where the implants are loaded immediately after placement. This is, in fact, a promising technique for patients who need a quick and effective solution to replace a missing or damaged tooth. It replaces the traditional surgical protocol, which can last up to nine months, with a shorter one that can take only one day (a single operation).
Thus, the new protocol for immediate loading is presented as follows:
Extraction of the damaged tooth
Placement of the dental implant
Placement of the temporary prosthesis
Placement of the final tooth crown or bridge after 3 months (after the osseointegration and healing period)
Indications for immediate loading implants
It should be noted that an immediate dental implant is not appropriate for everyone. Whether you're aiming for replacing one tooth in the anterior region or all the teeth in the dental arch, this treatment is for you. However, it is not suitable for people with severe dental or periodontal history. However, it is indicated for people with :
Good general health and a healthy oral hygiene
A normal dental occlusion
Sufficient intermaxillary space for implant placement
Adequate bone volume and quality to ensure implant stability
Such treatment is not allowed in case of pregnancy or if the patient has an infected oral mucosa and immunodeficiencies. However, it is important to discuss the intervention details with your dentist following an implant consultation. This session is used to determine if you are a good candidate or not. If so, immediate loading can help you regain a healthy, functional smile in record time.
Advantages of the implant technique
With the revolutionary technique of immediate loading of dental implants, patients no longer have to wait for a beautiful smile with attractive teeth. Thanks to the new protocol, the number of sessions is reduced to a minimum. Completely edentulous patients will receive an implant-supported prosthesis within 72 hours.
This process guarantees a rapid restoration of aesthetic and functional needs to respond quickly to edentulism. It preserves comfort, time saving, and the natural appearance of the teeth. Also, immediate therapeutic management of the teeth improves the patient's quality of life. As it improves the patient's self-esteem.
How much does cost immediate dental implant treatment in Turkey?
Turquie Santé is committed to providing all the success factors for an effective immediate dental implant placement by good practice. Nevertheless, the prices at our clinics in Turkey are very competitive compared to those offered in other countries. The treatment costs between 450 and, 1380 euros per implant. This cost usually includes the implant surgery, the implant fixture, and the abutment (connector piece).
Our dental technicians and surgeons ensure using certified implants for good aesthetic and functional results. To reduce the waiting time, our partner clinics have established prosthetic laboratories. This allows our prosthetists to create temporary prostheses in only 24 hours. The expertise of our medical and paramedical staff ensures the reputation of our services. To take advantage of immediate dental implant treatment at the best price in Turkey, do not hesitate to request a free quote. Turquie Santé will accompany you throughout your medical stay, from the first contact until your recovery.
Share this page