Before / After photo Layered veneering consists of a coating of the teeth. This is a dental treatment that is performed in a practice or clinic.
The dental veneer serves to mask the defects of the visible teeth (incisors, canines or premolars). It helps to improve the alignment and change the shape and the complexion. The goal is to contribute a nice smile.
What material to use for laminated veneer ?
The most commonly used material is porcelain. It is a thin layer stuck to the surface of the tooth.
Who is this treatment for ?
It is an effective solution for those who have defects of one or more visible teeth. It could be a too pronounced hue, a malposition (spacing or overlap) or an abnormal shape. This treatment is possible at any age.
How should we proceed ?
This is a simple and fast operation. During the first consultation, the dentist examines the patient and gives advice on the feasibility of stratified veneer. The first step is a trimming of a tooth, the dentist prepares the tooth by minimal reduction of 0.5 mm to 1 mm to free up space for the porcelain laminate. Then he makes an impression of the tooth to make the veneer in the laboratory. A temporary veneer is put in place.
During the second session, the temporary veneer is removed and replaced with permanent veneer. This step lasts approximately 1 hour. Finally, the third session is devoted to checking the occlusion adjustment
The veneer is made in the laboratory and takes one to two weeks.
Our partner clinics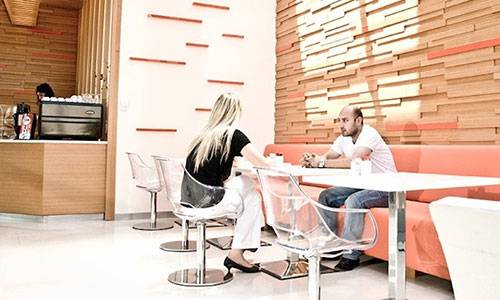 What interests compared to other conventional treatments?
Layered veneers offers a better result than whitening especially when it comes to a complexion too pronounced. In addition, it has a longer life. It also causes less loss of substance than crowns. In short, it makes it possible to correct several anomalies (complexion, shape, spacing ...) in a single treatment without any risk on the gums and the natural teeth. This treatment offers an immediate result with a minimum of preparation. It guarantees a dazzling smile and thus increases self-esteem.
What maintenance after the intervention?
Maintenance requires only good oral hygiene; regular brushing 2 to 3 times a day with a quality toothbrush. It is recommended to make regular checks at the dentist. Laminated veneer is very resistant and unalterable. In case of bruxism, it is imperative to wear a night protection gutter.
What is the price in Turkey?
The price of dental veneers in Turkey depends on the number of teeth to be corrected and the association with other aesthetic treatments. You can request your customized offer to have a reasonable price for this medical procedure.
Turquie Santé negotiates for you the best prices for your teeth veneer or laminate veneer intervention in the most recognized cities in the country, such as Istanbul, Izmir or Ankara.
Last update : 14/11/2019