Laminate veneer consists of a coating of the teeth. It is a dental treatment that takes place in an office or in a clinic.
Dental veneer is used to hide visible tooth defects (incisor, canine or premolar teeth). It improves alignment and changes shape and colour. The goal is to create a nice smile.
Package price of Laminate veneers in Turkey
With our hospitals, the average price of the package Laminate veneers in Turkey is
300 €
.
The cost of the procedure Laminate veneers in Turkey depends on several factors such as the type of surgery you are going to have, the clinic and the experience of your surgeon.
Discover the pack
The accuracy of the content has been reviewed by our Medical Commission.
Gallery (1)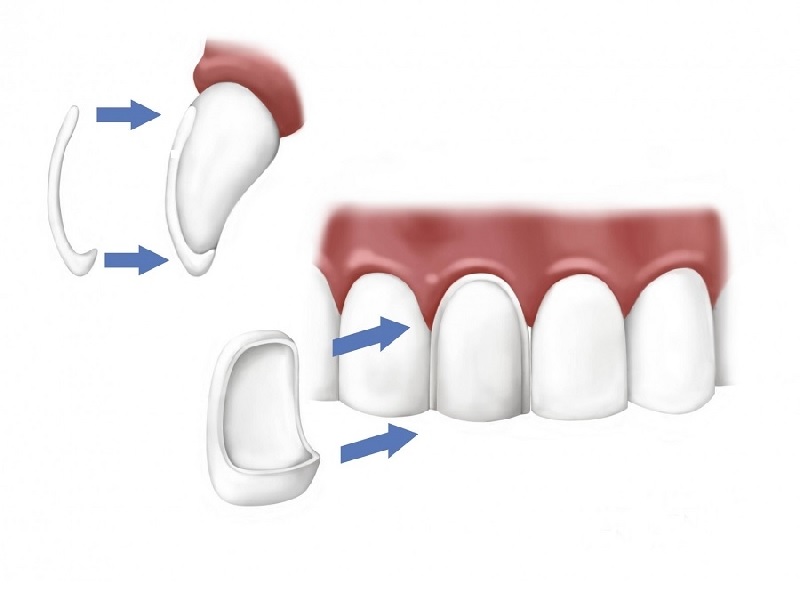 Who is this procedure for?
People who want a nice smile by masking the defects of one or more teeth
People with yellow, spaced or too long teeth
Side effects
Pains
Inflammation of the gum
Intervention or treatment's duration
The installation lasts between 1 to 4 hours depending on the number of facets
Recovery time
The result is visible immediately
Long life (generally more than 20 years)
Photos: Before / After (5)
How it works ?
Which material should be used for Laminate Veneer?
The most commonly used material is porcelain. It is a thin layer glued to the tooth surface.
Who is this Treatment for?
It is an effective solution for those who have defects of one or more visible teeth. It could be a too pronounced hue, a misalignment (spacing or overlap) or an abnormal shape. This treatment is possible at any age.
How should we Proceed?
This is a simple and quick operation. During the first consultation, the dentist carefully examines the patient and gives him/her advice on the feasibility of laminate veneers. The first step consists of trimming a tooth, the dentist prepares the tooth by a minimal reduction of 0.5 mm to 1 mm to free up some space for the porcelain laminate. Then, he/she prints the tooth in order to make the veneer in the laboratory. A temporary veneer is put in place.
During the second session, the temporary veneer is removed and replaced by permanent veneer. This stage lasts approximately 1 hour. Finally, the third session is devoted to checking the occlusion fit.
What are the Advantages of Laminate Veneers?
Laminate veneer offers a better result than Teeth whitening especially when it is a too pronounced complexion. In addition, it has a longer lifespan. It also causes less substance loss than crowns. In short, it corrects several defects such as complexion, shape, and spacing in a single treatment without any risk on the natural gums and teeth. This treatment offers an immediate result with minimal preparation. It guarantees a dazzling smile and thus increases self-esteem.
How to Take Care of our Laminate Veneers?
Care requires only a good oral hygiene and a regular brushing 2 to 3 times a day with a quality toothbrush. It is recommended to do regular checks at the dentist's office. Laminate veneer is very resistant and unalterable. In case of bruxism, it is imperative to wear a night protection gutter.
What is the price of Laminate Veneers in Turkey & Istanbul?
The price of dental veneers in Turkey depends on the number of teeth to be corrected and the association with other Dental care. You can request your customized offer to have a reasonable price for this medical procedure.
Turquie Santé negotiates for you the best prices for your teeth veneer or laminate veneer intervention in the most recognized cities in the country, such as Istanbul, Izmir, Ankara, or Antalya.
Frequently asked questions
They are a brand of veneers, often referred to as "no prep" veneers or "laminates". They are made of "ultra-thin" laminate.
Lumineers are known for being too thin (only 0.2 mm dense) and semitransparent, they look exactly like natural tooth enamel. So no tooth grinding is necessary to fit them.
Laminate veneers can be used to remediate to all sorts of anesthetic appearance of the teeth. Like traditional veneers, laminates can be applied to repair some imperfectness in the teeth, including discoloring, tooth surface loss, and space between teeth. They are also used to treat misaligned, chipped or crooked teeth.
Unlike traditional porcelain veneers, laminates are not a lasting solution. After their placement, you can remove them with negligible damage to your dentition. This type of veneers needs to be replaced every 10 years.
Lumineers are more translucent than porcelain veneers. That's why they may not be a good choice for patients with seriously stained teeth. However, since laminates are thinner than porcelain dental veneers, the dentist won't have to grind the surface of your teeth before placing them.