The zygomatic implant is a new technique in the dental implantology field. It presents an effective solution for people who have suffered significant bone loss in the upper jaw. This is the case of partial or complete edentulism, where bone grafting or dental implants are impossible.
Any Question ?
Get in Touch.
We're Here to Help.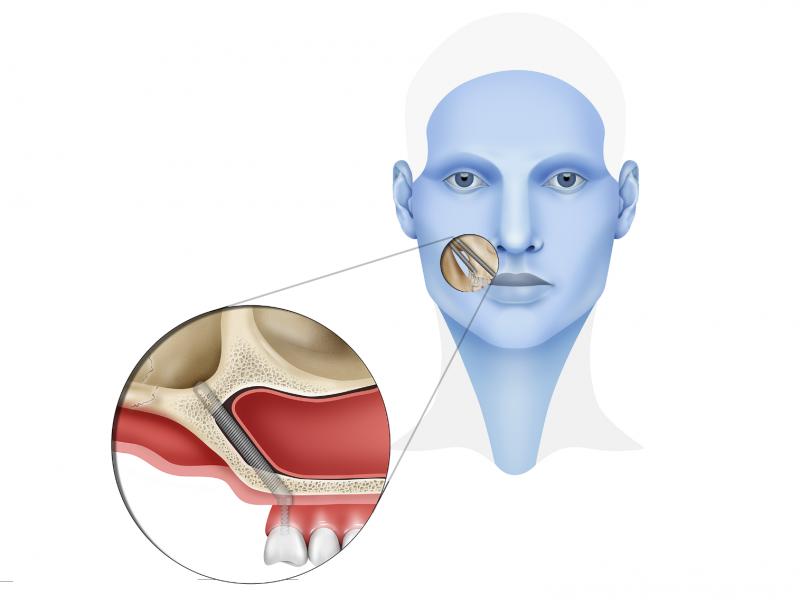 Who is this procedure for?
People with severe bone loss in the maxillary region
People with partial or complete edentulism
People who are not eligible for a conventional dental implant
Side effects
Implant site infection
Pain and swelling
Hematoma and bruising
Nerve damage
Alternative treatments
Bone grafting
Removable prosthesis
Intervention or treatment's duration
The accuracy of the content has been reviewed by our Medical Commission.
What is a zygomatic implant?
The zygomatic implant is the dental placement used when the jawbone present does not allow the attachment of traditional implants. The jawbone below the eye socket is called a zygoma and is often used in facial reconstruction procedures. Zygomatic implants are large titanium screws that are inserted directly into the zygomatic bone (the cheekbone) to provide a solid base. This is used to secure a dental prosthesis that does not require a bone graft.
Indications for zygomatic implants
Zygomatic implants are only suitable for people with edentulism in the upper dental arch. Thus, the placement of these implants is suitable for people who are intolerant of removable prostheses with insufficient bone tissue. It's also more suitable for people who want to avoid bone grafting. As is indicated when the patient aims for immediate loading of dental implants without filling the maxillary sinus. This ensures a fixed prosthetic rehabilitation where the implant is anchored in a non-absorbable zygomatic tissue, even in the most extreme cases.
Zygoma implant in our partner clinics in Turkey
Our surgeons first require an examination of the oral cavity (3D X-ray). Which is used to assess the condition of the jawbone mass. This allows us to determine whether a bone graft is possible or whether a zygomatic implant should be considered. The placement of zygomatic implants is more delicate than the conventional dental implants one. It consists of inserting longer titanium implants with a more pronounced angle. Afterward, our maxillofacial surgeons in Turkey ensure that the implants are anchored in the jawbone of the cheekbone while avoiding the sinuses. The temporary appliance is usually screwed onto the implants the same day. This way, the patient does not have to wait for a full set of teeth and wakes up with new ones.
To ensure that the surgery is painless, intravenous sedation may be used before undergoing local or general anesthesia. Follow-up after the procedure is important to monitor healing and ensure that the implants are properly integrated into the bone.
Advantages of the surgery
Zygomatic implants are becoming more and more common in the world of oral and maxillofacial surgery. It is thanks to its multiple advantages that this technique is favored by specialists, where it :
Allows to avoid bone grafting
Allows for the immediate placement of dentures
Is less invasive than other treatments (only 1 operation)
Costs less than the grafting procedure
Aesthetic result is guaranteed with zygoma implants that are comfortable and functional
Higher success rate than traditional implants
Contraindications of jawbone implants
Although zygoma implants are considered an advanced solution for patients with severe bone loss in the upper jaw region, however, it may include some contraindications:
Infections: Patients with oral or dental infections should be treated before a zygomatic implant is placed. An infection can affect the healing of the implant and even lead to its failure.
Insufficient cheekbone: Zygomatic implants require sufficient bone volume in the zygomatic region. If the cheekbone is insufficient, it may be necessary to perform a bone graft before implant placement.
Bone diseases: Patients with bone diseases such as osteoporosis or Paget's disease may have reduced bone density, which may impact the success of the zygomatic implant.
Radiation therapy: Patients who have undergone radiation therapy to the maxillofacial region may have altered bone quality, which can compromise the success of the implant.
Each patient must discuss their complete medical history with their dentist before undergoing implant surgery to determine if the zygomatic implant is a viable option for them.
How much do zygomatic implants cost in Istanbul, Turkey?
Zygomatic implant prices in Turkey can vary depending on several factors such as the clinic chosen, the surgeon, and the complexity of the procedure. In general, at our partner facilities in Turkey, it costs between 2000 and 4000 euros.
Share this page