Clinical crown lengthening is a surgical procedure to increase the visible portion of the tooth by exposing the crown structure. It is performed for therapeutic or aesthetic reasons to improve the appearance of the tooth and achieve greater harmony with surrounding tissues such as bone and gum. The ultimate goal is to achieve optimal functional and esthetic results.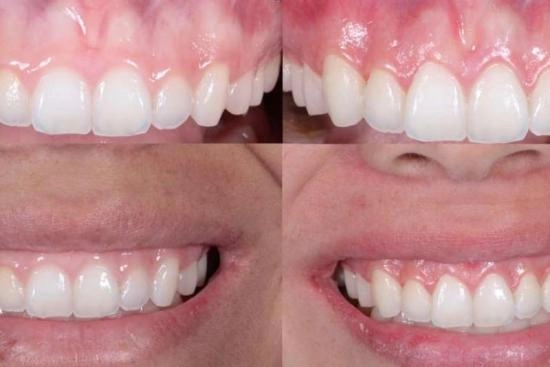 The accuracy of the content has been reviewed by our Medical Commission.
Dental crown lengthening procedure in Turkey
Crown lengthening, also known as coronal elongation, is a periodontal surgical procedure designed to increase the clinical height of a tooth's crown. This usually involves the removal of excess gum tissue to expose more tooth structure.
Coronal elongation can be performed for a variety of reasons. These include restoring teeth, improving smile aesthetics, or preparing a tooth for a subsequent dental procedure. This procedure creates enough space for dental restorations or access to parts of the tooth that require further treatment.
Your dentist may recommend a dental crown lengthening procedure to:
Get rid of tooth decay under the gum;
Treat soft tissue inside the mouth;
Cement dental veneers;
Maintain good oral hygiene.
If the root of the tooth is short, crown lengthening is not possible. In such cases, this procedure could compromise the prognosis of the tooth. To determine whether crown lengthening is appropriate in your specific situation, it's important to consult with a qualified professional dentist in Istanbul, Turkey.
Other procedures may be indicated for you, which are gingivectomy or gingivoplasty.
Who can have coronal elongation?
As with all surgeries, crown lengthening in Turkey is not chosen at random. It must be based on a visual diagnosis using X-rays.
This procedure can be used to replace part of a broken or decayed tooth, especially if it disappears under the gum or even at a bone level. Thanks to technological advances in Turkey, tooth extraction can be avoided.
This dental surgery aims to restore the dental environment so that dentures can be fitted. It would be difficult to reconstruct the crown due to the unavailability of visible dental materials. Therefore, coronal lengthening is a corrective procedure used for aesthetic purposes.
Tooth crown lengthening target
The objective of crown lengthening is to increase the visible portion of the tooth by reducing the gum tissue. This dental procedure involves the removal of the upper part of the gum to expose more of the tooth, and it may also involve bone grafting.
A thorough preoperative clinical examination is essential to assess the feasibility and aesthetic benefits of the surgery. The procedure is performed under local anesthesia in a dental clinic with strict hygienic precautions. Complete healing usually takes about 3 months.
Once the patient has fully recovered, an artificial crown can be placed on the treated tooth to restore its appearance. Our partner clinics in Turkey have an abundant supply of dental materials that can be used for this procedure, resulting in a very natural-looking result.
How a dental crown lengthening procedure is done?
During the crown lengthening procedure, the dental surgeon makes a precise incision in the gum tissue and repositions the gums to create the appearance of larger teeth. This dental procedure is performed with minimal discomfort, usually under local anesthesia, by a cosmetic dentist.
In some cases, bone reconstruction may be required. The oral surgeon may alter the tooth structure to achieve desired results.
Thorough clinical evaluations are essential in any orthodontic treatment, and specific precautions must be taken before undergoing this dental surgery.
Full recovery from the procedure can take up to 3 months. Once the gum has healed, an artificial crown is placed to reconstruct the missing portion of the tooth. Various dental materials are available to ensure that the restored teeth look natural.
Why are X-Rays so Important?
X-rays play a crucial role in dentistry for several reasons. Firstly, they provide dentists with detailed images of the tooth roots, enabling them to assess the suitability of a patient for surgery. These images help identify any abnormalities or underlying diseases, allowing the dentist to plan and execute the necessary treatment accordingly.
Furthermore, prior to the procedure, the dentist may request another set of X-rays to evaluate the current condition of the teeth and jawbone. This helps ensure that the final condition is properly assessed before proceeding with the treatment.
Advantages and drawbacks of a coronal elongation
After a gum lift surgery, the smile is noticeably improved. The teeth may look bigger. People with big teeth can end up spoiling their smiles by undergoing this kind of surgery. Added to that, this surgery is not for patients who smoke or have gingival inflammation.
To avoid this, a dentist may show you the postoperative results thanks to dental imaging.
Cost of crown lengthening in Turkey
Turquie Santé provides advanced dental techniques at its clinics located in Antalya, Izmir, Istanbul, and Ankara, Turkey. Ensuring the comfort of our patients is our top priority, beginning with the administration of anesthesia, employing effective sterilization methods, and utilizing high-quality modern equipment.
For further information regarding the cost of crown lengthening at our clinics, please consult our price list.
The prices provided by our affiliated clinics are approximate and serve as a guide. However, please be aware that we will prepare a comprehensive dossier with you prior to any procedure.
Additionally, you have the option to obtain a detailed quotation from one or more of our dental clinics in Istanbul, Turkey.
Share this page