What is pleural mesothelioma?
Pleural mesothelioma is a very rare cancerous lump that grows in the pleura or peritoneum. It begins in the mesothelial cells.
The pleura is a blanket that encircles not only the lungs (the bronchi) but also the wall within the rib cage. This tumor particularly attacks men who are over the age of 50.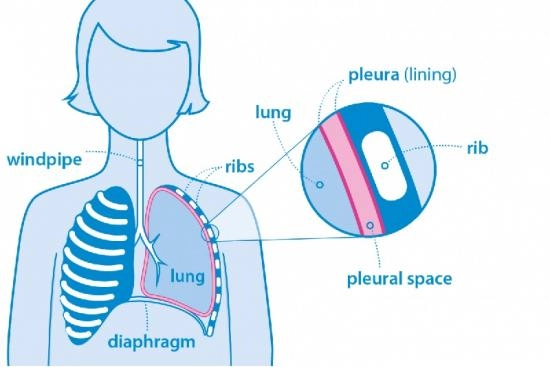 The accuracy of the content has been reviewed by our Medical Commission.
What are the clinical signs and symptoms of this cancer?
The symptoms are mainly respiratory; they are attached to the growth of the tumor (which will compress the lungs). The main and the most frequent signs are as follows:
Chest or back pain
Cough
Shortness of breath
Fever
Weight loss
Night sweats
Dyspnea
Lateral chest pain
What are the causes?
Inhalation of asbestos fibers is the main known cause of pleural mesothelioma. We do not forget the natural and industrial fibers such as ceramics, and the simian virus 40. Other genetic causes appear, mainly the loss of BAP1 expression or also the BRCA1-associated protein. Smoking is a cause of mesothelioma.
What are the treatments?
Different types of physicians in Turkey often work together to create a comprehensive cancer treatment plan for patients combining different types of therapy.
The treatment is supportive and aims to reduce pain and facilitate dyspnea, this disease is a bit delicate to chemotherapy and radiotherapy but surgery is by exception possible.
There are two kinds of surgeries in Turkey:
Pleurectomy decortication involves the removal of the pleura.
Extrapleural pneumonectomy involves the eradication of the pleura, lungs, pericardium, and part of the diaphragm. The pericardium and the diaphragm are subsequently reconstructed with special material.
The hospitalization time is between 14 and 21 days. It takes longer in case of complications. According to the doctor's advice, chemotherapy and/or radiotherapy will be used.
Treatment with chemotherapy
Then, the patient will follow chemotherapy sessions, during which a mixture of cisplatin and pemetrexed would be mixed and injected. These drugs are known for their anti-cancer effect.
Radiotherapy treatment
Regarding radiotherapy, doctors use rays to destroy the cancerous tumor. They use them for the treatment of mesothelioma.
Healing from this disease in Turkey, Istanbul, Izmir, and Antalya: Prices & reviews
Turquie santé is a website that puts you in direct contact with specialists and experienced doctors in Istanbul, Turkey, and offers you the best prices. With Turquie santé, you benefit from the best care plans to cure your illness whatever the stage is.
Please send your medical file to our partner clinics in Istanbul, Izmir, or Antalya. We guarantee you the right services and the best prices.
Share this page