The eye is a very sensitive organ, that's why it can be easily infected by several anomalies. Ophthalmology is the medical-surgical discipline that deals with eye health and vision treatment.
This profession is practiced by an "ophthalmologist," who is frequently assisted by optometrists (doctor of optometry). Turkey is the finest place for vision care in ophthalmology. It is primarily because of its JCI-accredited ophthalmology clinics and hospitals.
Any Question ?
Get in Touch.
We're Here to Help.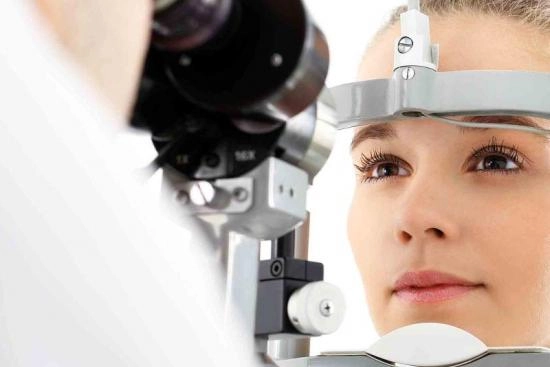 The accuracy of the content has been reviewed by our Medical Commission.
What is the eye exam?
The eye examination is the visit carried out by the ophthalmologist, which consists of the functional evaluation of the visual capacity and the biomicroscopic examination of the anterior and posterior segments of the eyes to verify the presence of possible risk factors or the existence of eye diseases.
Tonometry is also performed during the appointment with an ophthalmologist and in one of our best eye clinics in Turkey.
What is the purpose of the ophthalmology examination?
The purpose of an eye exam is to assess the health and sight of the eyes.
The examination also tries to confirm the presence of eye disorders or other pathologies, such as diabetes, tumors, and hypertension, which can lead to the formation of eye lesions.
In this context, the risk factors likely to produce, in the long term, eye diseases are also sought.
What ocular pathologies are treated in Turkey?
Some of the most common vision problems include:
Glaucoma: a very serious disease accompanied by too high eye pressure and causes a significant decrease in the visual field.
Strabismus: It is characterized by misalignment of the eyes.
Keratoconus: anatomical and refractive anomaly of the eye. It is a deformation of the cornea, which, instead of having a spherical shape, is distinguished by a cone shape.
Presbyopia: The progressive and natural inability of the eye to focus on the nearest objects.
Astigmatism: An imperfection in the curvature of the cornea or lens of the eye.
Hyperopia: A refractive defect in which the view of near objects is more blurred than that of distant objects.
Myopia: blurred vision from afar with preserved active near vision.
Retinoblastoma: This is the type of cancerous tumor common in children (usually appears before the age of 5).
AMD, age-related macular degeneration.
Cataract (darkening of the lens).
Achromatopsia (non-perception of colors).
Some diseases can present ophthalmological emergencies and will need to be treated quickly. With that, we guarantee you a quick response to all your consultation requests from an ophthalmologist in Istanbul, Turkey.
Get eye treatment at the best eye hospitals & clinics
The best ophthalmology specialists in Istanbul, Turkey tells you to follow several tips to prevent the onset of eye diseases.
To avoid problems that can harm your eyes, you must:
Protect your eyes against Ultra-Violet rays with sunglasses.
Get regular checkups with the eye doctor for eye care and protection.
Avoid working with the screen at a very short distance. The distance between the eye and the screen should be between 50 centimeters and 80 centimeters.
Contact us to get a free customized quote and the cost of your ophthalmologic procedure and eye surgery in Istanbul, Turkey.
Consult the best ophthalmologist in Istanbul: Prices & Clinics
These last years, Turkey became one of the best destinations for medical tourism. Our world-class clinics, private hospital, and medical center welcome local and international patients. They choose treatment in Turkey due to the high quality of care.
Turquie Santé allows you to contact the best eye surgeons in Turkish clinics and hospitals. You can send your request to several clinics at the same time. You will then get a medical opinion and quote for your treatment at the best eye clinics in Istanbul, Turkey at a competitive price.
This can be refractive surgery, a cataract procedure, or eye plastic surgery.
The cost of an ophthalmology consultation in Turkey depends on the type of eye exam you wish to perform. The ophthalmologist may add more in-depth exams based on your initial results.
Share this page
Verified reviews of our patients for Ophthalmology
BRAHIMI Mohamed A.
13 March 2023
The visit to the clinic did not have the expected result After consultation and additional examination the tests were not conclusive the optic nerve is very affected I thank you for your concern and your professionalism good luck
La visite a la clinique n a pas eu le résultat qu'on attendait Après consultation et examen complémentaire les test n'ont pas été concluants le nerf optique est très atteint Je vous remercie pour votre sollicitude et votre professionnalisme bonne continuation
Auto-translated
Show original
Translate
Thank you for your feedback. We wish you healthy days.

BENANI Nourredine KHARCHI .
22 November 2022
We worked well together, on the appointment with the doctor and the staff of the clinic and I would like to thank Fidan for the work carried out inside the clinic which facilitated my care and I even shared the contact details of Kevin with Algerians on the clinic. Brevo the team
Nous avons bien travaillé ensemble, sur le rendezvous avec le médecin et le staffs de la clinique et je tiens à remercier Fidan du travail réalisé à l interur de la clinique qui m'a facilité la prise en charge et j ai même partagé les coordonnées de kevin avec des algérien sur la clinique.brevo l équipe
Auto-translated
Show original
Translate
Thank you very much for your valuable comment!

KASONGO KAMBALA Sébastien .
10 March 2022
Hello . I am doing very well. I really enjoyed Dunyagoz Hospital. The operation went very well. I have also returned to my country since 03/21. Many thanks for your assistance
Bonjour . Je me porte très bien. J'ai vraiment apprécié l'hôpital Dunyagoz. L'opération s'est très bien passée. Je suis d'ailleurs rentré à mon pays depuis le 21/03. Grand merci pour votre assistance
Auto-translated
Show original
Translate
Dear KASONGO KAMBALA Sébastien, thank you very much for your valuable comment.