Keratopigmentation is a revolutionary advance in the cosmetic eye correction field. This innovative procedure redefines the eye's beauty by offering a long-lasting solution to people who wish to change their eyes color or improve their appearance. It replaces temporary methods such as wearing contact lenses and colored implants.
Any Question ?
Get in Touch.
We're Here to Help.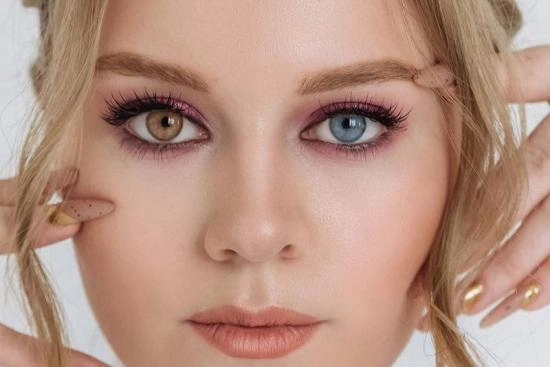 Who is this procedure for?
People with keratoconus
People with scars or white spots on the cornea
People with corneal opacities
People who want an aesthetic change in eye color
Side effects
Eye sensitivity and irritation
Redness and inflammation
Infection
Changes in eye color
Alternative treatments
Corneal transplant
Medical treatments (e.g. eye drops)
Intervention or treatment's duration
The accuracy of the content has been reviewed by our Medical Commission.
What is keratopigmentation?
Keratopigmentation also known as corneal tattooing is a semi-permanent technique that consists of injecting formulated mineral pigments into the eye cornea. This procedure is performed by qualified and experienced professionals in eye color change surgery for aesthetic reasons. In our ophthalmology clinics in Turkey, the pigments are carefully selected to match the natural color of each patient's iris, thus creating a natural and harmonious appearance.
This technique is an effective and successful combination of intralamellar corneal tattooing and the femtosecond laser, used primarily to treat corneal opacities. Therefore, limbal ring keratopigmentation (KTP) presents an alternative option for patients with severe cosmetic defects. It is also dedicated to people who do not tolerate contact lenses and who are at high risk of corneal transplantation.
Procedure for annular keratopigmentation in Turkey
KTP or called annular keratopigmentation is performed under local anesthesia by an ophthalmic surgeon at our healthcare facilities in Turkey. You can opt for this type of surgery at the best price and book your unique experience from now to have beautiful eyes. Keratopigmentation in Turkey consists of using a circular tunnel in the cornea through a femtosecond laser. At the same time, the surgeon injects a biological pigment (blue, green, hazel…) that covers the natural color of the eye. Thus, our practitioner can test the colors proposed before the intervention following stimulation to satisfy your expectations as well as possible.
To do this, our ophthalmic surgeon, in Turkey, uses a controlled micro-needling technique. Then, he uses a lamellar dissector to open the femtosecond tunnel and widen it until it reaches the outer limits of the upper corneal layer. Then, he injects the micronized pigments, chosen by the patient, into the tunnel through a micro cannula. This is a personalized process that takes into account the unique features of each individual. It includes the iris color and the shape of the eye, which are taken into consideration to obtain results adapted to each patient.
Advantages of corneal tattooing applied in our partner clinics
Annular keratopigmentation is an ocular surgery with both aesthetic and therapeutic purposes. It is a restorative, cosmetic, and medical solution at the same time.
This is due to the multiple advantages it offers, such as :
Correction of aesthetic defects: corneal tattooing can correct various ocular imperfections, such as scars, white spots, pigmentation irregularities, or corneal opacities. Thus, it can improve the overall appearance of the eye.
Correction of abnormalities: Keratopigmentation is also used to treat patients with cornea congenital abnormalities, such as ocular albinism or keratoconus. Medical keratopigmentation restores the natural appearance of the eye by adding pigmentation and creating precise contours to compensate for color missing or abnormal features of the cornea.
Immediate Results: The results of keratopigmentation are usually visible immediately after the procedure. Patients can instantly notice a significant improvement in their eyes' appearance, resulting in increased confidence and personal satisfaction.
Safety and Reliability: Keratopigmentation is a safe and reliable procedure when performed by qualified professionals. Our specialized partner clinics, based in Turkey, use state-of-the-art techniques and equipment to ensure accurate and predictable results.
After-effects of the eye color change surgery
Patients may experience irritation or even burning after the eye color change surgery. Glare and dryness of the eyes may also be noticeable after the procedure. Rubbing the eyes immediately after surgery is strictly discouraged. Some patients may also experience increased sensitivity to light (photophobia) during the first few days. For this reason, it is recommended to wear sunglasses and avoid excessive exposure to bright light.
How much does Keratopigmentation cost in Istanbul, Turkey?
In general, the keratopigmentation cost in Turkey may be more affordable compared to other countries. However, it is difficult to give a precise price, as it will depend on individual circumstances. On average, the cost of keratopigmentation in Turkey can vary between 1,450 and 3,000 euros.
Share this page
Frequently asked questions
Most patients who have undergone keratopigmentation can return to work within 2 to 7 days. The resumption of daily activities depends on the healing speed of each individual. However, it is preferable to wait 2 to 4 weeks before resuming any sporting activity.
Keratopigmentation is generally painless. At our partner clinics in Turkey, our professionals use anesthetic agents to numb the eyes before starting the surgery.
Blindness following eye color change surgery is an extremely unlikely event, as the laser treats the eye surface without altering its function. The pigment applied during keratopigmentation is perfectly tolerated by the body, and its use does not provoke inflammatory responses.
Cataracts are characterized by the progressive opacification of the eye's crystalline lens. It cannot therefore be considered a consequence of keratopigmentation, since the latter consists of pigmenting the surface of the cornea and does not affect the lens.
Generally, the pigmentation obtained following keratopigmentation is long-lasting. However, the new color may fade due to exposure to light or other environmental factors. However, the patient can undergo touch-up sessions to regain the desired appearance.