All you need to know about Hip Prosthesis
Osteoarthritis is an inflammatory disease that affects the joints, leading to the destruction of cartilage. It is common among women than men, caused by overweight, age advancement, trauma, and causes pain, stiffness and inflammation. Several types of treatment are proposed to treat this disease such as the hip prosthesis.
The accuracy of the content has been reviewed by our Medical Commission.
Who is this procedure for?
People with chronic hip pain
Elderly people suffering from the effects of osteoarthritis
People with a severe hip fracture
People suffering from the effects of rheumatoid arthritis
Side effects
Dislocation of the hip
Infection
Fractures
Pains
Intervention or treatment's duration
The operation lasts one to two hours
Recovery time
Back to daily activities after one week
Back to professional activities after 2 months
How it works ?
Hip Prosthesis Surgery in Turkey and Istanbul: intervention principle
The hip prosthesis in Turkey and Istanbul is called "intervention of last resort" that is to say that it is performed after the use of all the drug methods against osteoarthritis (painkillers, anti-inflammatories, anti-osteoarthritis ...). The intervention is performed by an orthopedic surgeon lasts one to two hours and under general anesthesia. 4 nights of hospitalization after the operation is mandatory with a work stoppage for two months.
Rehabilitation at a physiotherapist or in a rehabilitation center is very important to get rid of crutches and regain full autonomy in walking.
What is the new Technique in Turkey and Istanbul?
Advances in surgical technology have improved longevity and recovery time for total hip replacement surgery. The latest state-of-the-art "SUPERPATH" technology consists of sparing the surrounding muscles and tendons during total hip replacement surgery. This technique builds a traditional hip implant in place without cutting muscles or tendons. In addition, this is done without having to dislocate the hip during surgery, a common element to all other hip replacement surgery techniques.
What are the risks and postoperative complications of hip prosthesis
Like any operation, the hip prosthesis presents some risks and complications:
During the intervention:
Blood vessels and nerves that are close to the joint can be injured accidentally causing hemorrhaging.
Bone movements can cause fracture of bone structures.
After the intervention:
A hematoma can occur that requires surgical drainage.
An infection of the operated area should be treated with antibiotics or removal of the implant in some cases.
A calcification in the capsule or in the adjacent muscles may be responsible for a decrease in postoperative mobility.
A scar usually exists at the buttock, but in many cases it can be located on the outside of the hip.
The hip prosthesis has proved its effectiveness in the treatment of hip pain thanks to its excellent results.
Price in Turkey and Istanbul
The prices of the interventions in Turkey are interesting compared to the prices of the European countries namely France or Germany. Turquie Santé allows you to benefit from cheap prices for your hip surgery.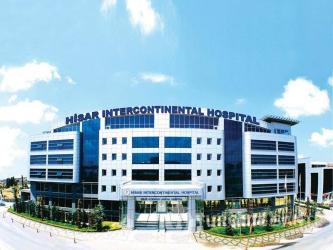 Multispecialized hospital
7 operating rooms
Capacity é of 170 beds
Certifications:




fievre F.
28 December 2020
No, I'm not satisfied, my face has a big stain after a peel The first time is good, but the second is not
La 1 ère fois c'est bien passer , mais la deuxième non .
Auto-translated
Show original
Translate

Rahimi S.
21 December 2020
Hello we are very satisfied with our visit to The HISAR clinic very warm welcome all the staff were wonderful thank you for all the good luck Happy New Years to you and your colleagues especially Raja...
Bonjour on est très satisfaits de notre passage à La clinique HISAR très bon accueil tous le personnel ont était merveilleux merci pour tout bon courage Est bonne et heureuse Année à vous et vos collègues surtout Raja et Nabila
Read more
See less
Auto-translated
Show original
Translate

Ferrante P.
16 December 2020
Very well You can go with your eyes closed Even if you don't speak the language The hospital is very clean
Très bien Vous pouvez y allez les yeux fermés Même si vous parlez pas la langue L'hôpital est très propre
Auto-translated
Show original
Translate

Diaw Abdoulaye .
09 December 2020
Turkey health is synonymous with complete care from your arrival in Turkey until your return. Follow-up continues when you are in the hospital. Its strength is its reactivity to the simple call as fol...
Turquie santé est synonyme de prise en charge complète depuis votre arrivée en Turquie jusqu'à votre retour. Le suivi se poursuit quand vous s êtes à l'hôpital. Sa force est sa réactivité au simple appel comme suite à votre e-mail vous avez immédiatement quelqu'un pour vous assister. Efficacité.
Read more
See less
Auto-translated
Show original
Translate

SAADI Asma .
07 December 2020
I am satisfied with the intervention and the welcome, On the other hand, there was no one waiting for us at the airport, neither for arrival nor for departure, so the documents that were sent to me ar...
Je suis satisfaite de l'intervention et de l'accueil, Par Contre il y avait personne qui nous attendait à l'aéroport ni pour l'arrivée ni pour le départ, aussi les documents qu'on m'a transmis sont en turc, je ne sais même pas ce qu'ils disent, j'ai fait aussi une Estero graphique mais j'ai pas eu le cliché ? Ils m'ont fait une aspiration de kyste et une Estero graphique, C'est des détails c'est pas grave
Read more
See less
Auto-translated
Show original
Translate
Previous
Next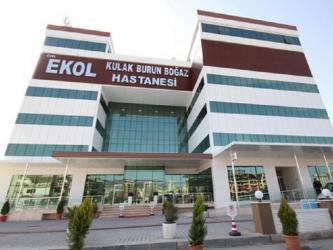 Multispecialized hospital
Hospital founded in 2007
Very good reputation in ENT department
Certifications:



Khadidja C.
06 February 2019
good medical staff.
bon staff médical.
Auto-translated
Show original
Translate
Previous
Next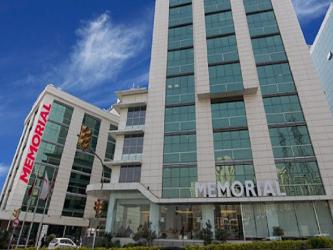 Multi-specialty hospital with 143 beds
Appreciated and recognized medical personnel
Founded in 2008
Certifications: Warranty certificate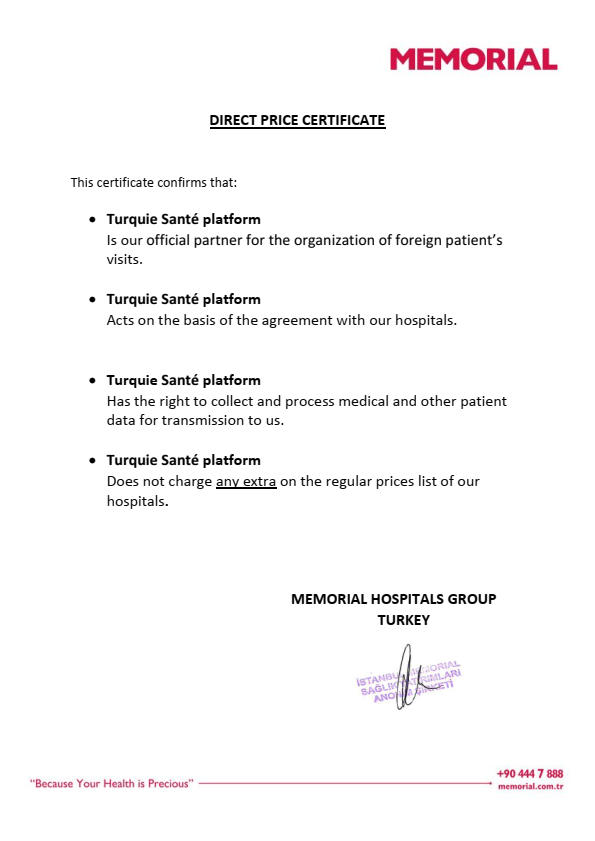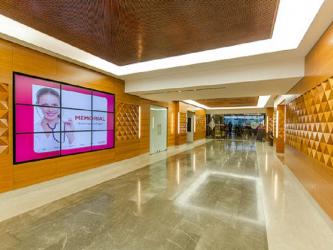 Grand Hospital founded in 1999
200 Beds
53,000 square meters
Certifications: Warranty certificate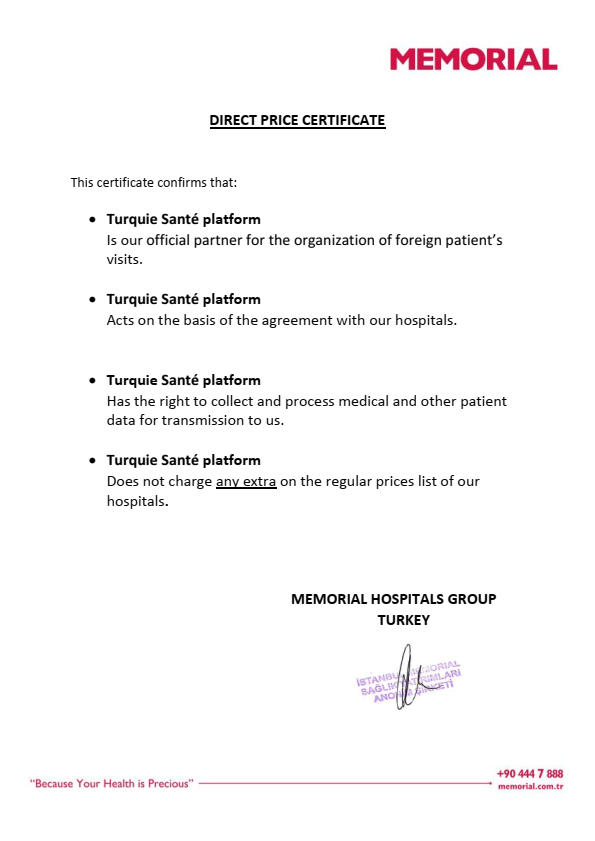 Dounia M.
04 December 2018
Just got a medical advice and am going back for the surgery.
حصلت على استشارة طبية فقط ، وسأعود لإجراء عملية جراحية.
Auto-translated
Show original
Translate

naima O.
23 November 2018
satisfied.
satisfaite.
Auto-translated
Show original
Translate

Tayssir Elias El H.
09 November 2018
Good doctors, but the problem is that to this day I have not yet received my son's report in English, while Nabila from Turkey Santé who is really very helpful has relaunched them several times
Bons médecins, mais le problème c'est que à ce jour je n'ai pas encore reçu le rapport de mon fils en anglais, alors que Nabila de Turquie Santé qui est vraiment très serviable les a relancé à plusieurs reprises
Auto-translated
Show original
Translate
Previous
Next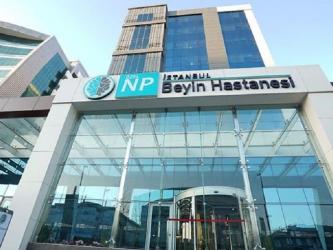 Certifications: Warranty certificate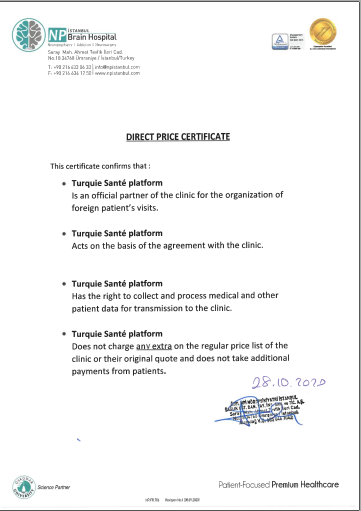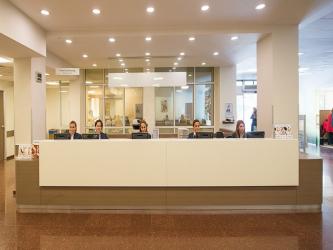 Multi-specialty hospital of good reputation
7 operating rooms
Capacity of 77 beds
Certifications: Warranty certificate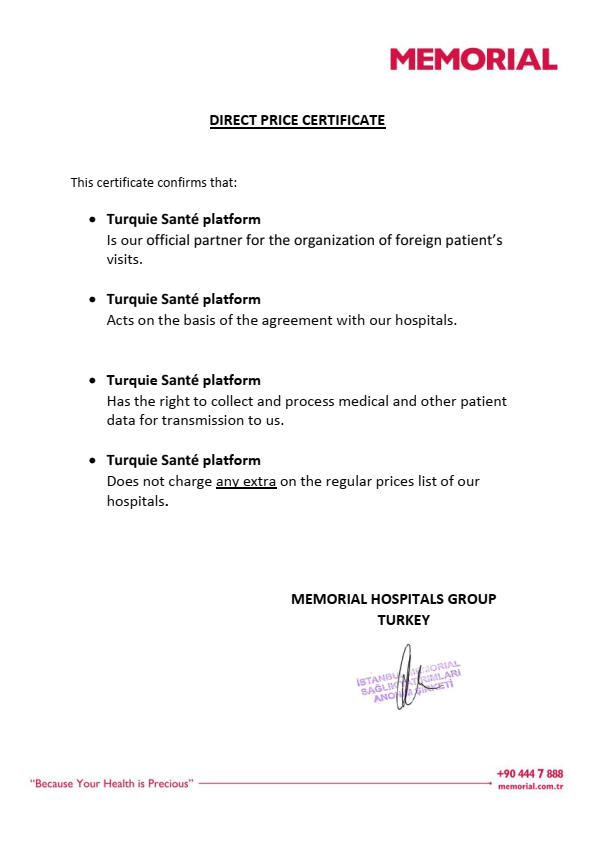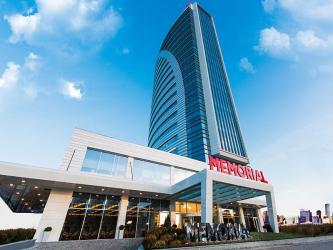 Member of the American Hospital Association (AHA)
Capacity of 230 beds
The best hospital in Ankara
Certifications: Warranty certificate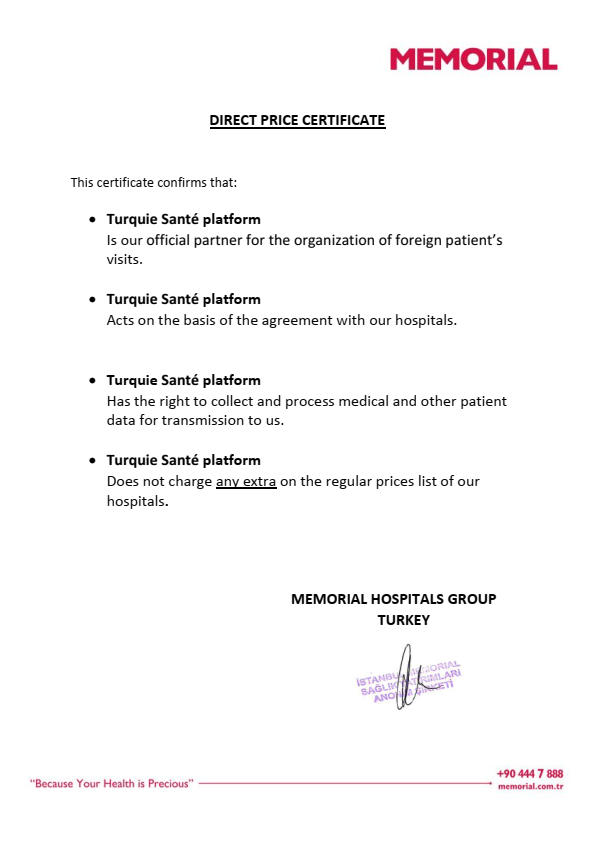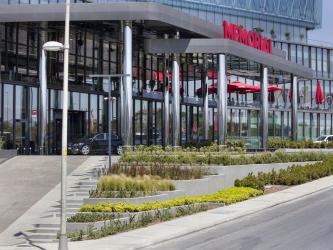 Ultra Modern New Hospital
Multispecialized hospital
VIP class
Certifications: Warranty certificate

BENGOUFFA C.
05 November 2019
Excellent listening quality and competence of doctors. Our guide was impeccable. I just regret three points: * The transfer to the hospital was chaotic. The driver arrived half an hour early and left ...
Qualité d'écoute et compétence des médecins, excellentes. Notre accompagnatrice a été impeccable. Je déplore juste trois points : * Le transfert vers l'hôpital a été chaotique. Le chauffeur est arrivé avec une demi heure d'avance et est reparti pour une raison inconnue le temps de descendre des chambres. Après échanges avec les services de Turquie Santé, le chauffeur est enfin revenu. A noter que le chauffeur ne parlait que le turque. Donc impossible de communiquer avec lui. Nous sommes arrivés avec plus d'une demie-heure de retard que j'ai signalée à Turquie Santé, qui m'a certifié que tout serait réorganisé. * Arrivée au Mémorial, aucune personne pour nous orienter. La personne à l'accueil ne parle que turque. On a fini par trouver le service et s'enregistrer. Après 45' d'attente
Read more
See less
Auto-translated
Show original
Translate

Assameur A.
20 September 2019
Wonderful in all respects, especially the doctors and collectors Ahmed and Farah, but the prices you have are very high
رائع من كل النواحي خاصة الأطباء والمتجمين أحمد وفرح لكن الأسعار عندكم مرتفعة جدا
Auto-translated
Show original
Translate

Mashallah, an excellent doctor
ماشالله، طبيب ممتاز
Auto-translated
Show original
Translate
Previous
Next
No clinic matches your search ..
...