Endo-sleeve or endoscopic gastric banding is a minimally invasive procedure of bariatric surgery in Turkey. The goal of the procedure is to reduce the volume of the stomach, similar to major bariatric surgeries, resulting in an 80% reduction of the initial gastric capacity.
These endoscopic procedures are reversible, less risky, and without aesthetic impact.
Any Question ?
Get in Touch.
We're Here to Help.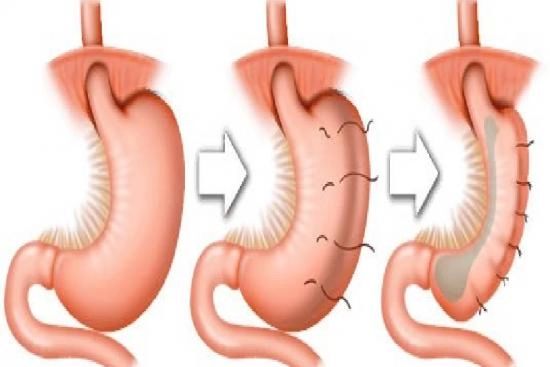 Who is this procedure for?
People with a BMI between 30 and 40
People who want to undergo a less invasive, non-surgical bariatric surgery.
Intervention or treatment's duration
Recovery time
1 to 3 days of hospitalization
Work stoppage for up to 3 weeks
The accuracy of the content has been reviewed by our Medical Commission.
Endo-sleeve: What is it?
Endoscopic gastric banding (ESG) or Endo-sleeve is an innovative endoscopic method to shrink the stomach, with an effect similar to that obtained with sleeve gastrectomy.
Endoscopic gastric banding is also used as a revision technique for major bariatric surgery, when, for example, the stomach has returned to its normal capacity and you no longer feel full of reduced portions.
The technique can thus be applied in case of unsatisfactory weight loss after a gastric band procedure or dilatation of the gastric potential after a sleeve and of the upper gastric pouch after a vertical gastroplasty.
How is endoscopic gastric plication performed?
Minimally invasive endoscopic gastric banding involves placing sutures along the stomach wall using an instrument called a "gastroscope" that is inserted through the mouth without making any incisions.
The surgery is performed under general anesthesia. A series of stitches are made in the lower part of the stomach up to the gastroesophageal junction. This makes the stomach "tighter". The curvature of the stomach is folded by suturing, isolated, and, as in sleeve gastrectomy, a gastric "tube" is created, reducing the original gastric capacity by 80%.
The treatment lasts certainly 3 years and more, and when the sutures are resected, they return to their original state, since it is a non-destructive procedure.
Who is the Endo-Sleeve for?
This reversible and repeatable procedure is indicated for patients who are
Over 18 years of age.
With a body mass index (BMI) greater than or equal to 30, in the presence of comorbidities.
Ineffective diet and exercise for weight loss.
Unable to undergo traditional abdominal surgery.
Like all weight loss procedures, the Endo-Sleeve requires a commitment to a healthier lifestyle.
You will need to
Make healthy, permanent changes
Follow a diet plan
Exercise regularly to ensure the long-term success of the procedure.
Differences and advantages over traditional bariatric surgery
Minimally invasive endoscopic bariatric surgery techniques have fewer risks associated with surgery, such as fistulas and peritonitis, and a milder postoperative course. This is possible because no surgical incision is made, but the gastroscope and micro-instruments are accessible through the mouth.
In addition, they have no aesthetic impact, which is an important consideration since young women make up the majority of patients undergoing bariatric surgery: endoscopic techniques can eliminate abdominal scarring.
However, even minimally invasive endoscopic bariatric surgery is preceded by an evaluation by a multidisciplinary team and is followed by a comprehensive follow-up.
Follow-up visits are usually scheduled regularly for one year to assist the patient throughout the process and to help maintain results.
Possible complications of ESG
Complications associated with endoscopic gastric banding are rare and often involve symptoms of food intolerance (nausea, vomiting) or secondary to the procedure (ulcers, bleeding, gastric perforation).
Hospitalization and recovery time are naturally much shorter than with traditional surgery.
EMS is permanent. Digestive function is not affected in any way, but the anatomy of the stomach is permanently changed.
Price of Endoscopic Gastric Banding in Turkey
As an innovative treatment, endoscopic gastric banding has generated considerable interest and enthusiasm among bariatric surgery specialists in Turkey, with lower costs and fewer complications.
Turquie Santé guarantees the most competitive and discounted prices for your endoscopic gastric banding procedure at our partner clinics in Istanbul, Turkey.
A numeral of fees can be included in the cost and the price of endoscopic gastric banding, such as:
The hospital or the clinic charges.
The costs of the tests.
The cost of anesthesia.
The surgeon's fees.
Share this page