What is cryotherapy?
Cryotherapy in Turkey is a cure that consists of applying cold to either a specific area of the body or the whole body. Some signs that arise due to a disease, pain, fat, trauma, or cancer can be alleviated through cold therapy. In fact, there are a number of forms that range from localized treatment with gas sprays and ice bags which is characterized by its simplicity to general treatment through using immersion in cold water. The whole body cryotherapy, that uses a cryotherapy chamber or equipment, can be described as a complex process.
Regardless of the type of device used, the main role is to produce a very dry cold that can be employed to target a particular area of the body or wrap the whole body.
It is crucial to note that this treatment possesses several potential advantages and some disadvantages that must be put into consideration.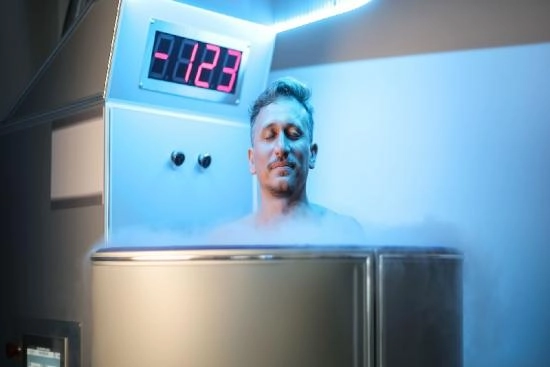 Who is this procedure for?
Patients suffering from pain due to illness, trauma or cancer
Patients who want to lose weight
Intervention or treatment's duration
The session lasts 2 to 4 minutes
The accuracy of the content has been reviewed by our Medical Commission.
What are the benefits?
The cold therapy acquires a wide range of advantages. Indeed, it is able to:
Ruin cancer cells in cervical, liver, and prostate cancers.
Increase physical recovery: cryotherapy can be considered as beneficial for athletes who would like to reduce tendonitis, bruises, and aches.
Destroy tumors in the kidneys, breasts, lungs, or even bones.
Ease the pain that can be felt because of arthritis, osteoarthritis, and headaches.
Reduce the inflammation.
Get rid of fat: through cryotherapy 500 Kcal can be burnt in 3 minutes since the body utilizes the fat as fuel when it is exposed to extreme cold. The internal temperature should be maintained at 37 °.
Enhance respiratory function.
What happens during this kind of treatment in Turkey and Istanbul?
In a cryotherapy chamber or a cryosauna that is dry and fresh, people are exposed to particularly low temperatures (less than -100°C) for 2 to 4 minutes. The rationale behind this is the creation of a thermal shock that leads to a low body temperature which triggers positive physiological reactions.
Cryotherapy and cryolipolysis: Treatment to lose weight
On one hand, Turquie santé recommends cryotherapy as a way to reduce the volume of particular areas that bother you. If you are thinking about losing weight promptly, just try cryotherapy that is capable of enabling you to eliminate cellulite and get rid of fat.
On the other hand, the destruction of fat can be accomplished with Cryolipolysis or coolsculpting that is regarded as a cosmetic method and a substitute for liposuction. A suction cup is employed to eliminate fat cells in order to get rid of excess fat. This technique may match the needs of some of you who want to lose weight without undergoing a surgery.
Prices: How much does it cost in Turkey and Istanbul?
Turquie santé offers cryotherapy sessions in each of its hospitals and clinics in Izmir, Ankara, Antalya, Turkey, and Istanbul under the direction of the best specialists who are very well trained. This cold therapy may be given to you in accordance with other cosmetic surgeries such as rhinoplasty or mesotherapy. Discover cryotherapy with Turquie santé that pays special attention to your health and well-being at competitive prices.
Can it be applied to the face?
In order to have a firm skin, restore glamour, and eliminate loose skin, cryotherapy is suggested just for you. Women who are prone to skin aging can benefit from cold therapy. Moreover, skin lesions which are produced by sebaceous hyperplasia or acne can be cured by this method.
Share this page