Currently, there is no definitive cure for arteriopathy obliterans. Fortunately, the efficacy of the artery surgeries in our private clinics and hospitals in Turkey is satisfactory. However, medication care is necessary to prevent a possible occlusion of the arteries.
The two major objectives behind curing arteriosclerosis obliterans are the following:
Pain can be controlled so that people can return to their physical activities.
The possibility of having heart failure will be low when the atherosclerosis advancement in your body will be reduced.
When you quit smoking, eat a healthy diet, and practise sports you are more likely to cure the occlusive arterial disease.
Any Question ?
Get in Touch.
We're Here to Help.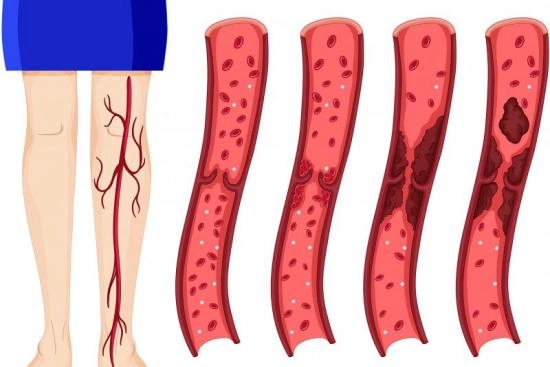 The accuracy of the content has been reviewed by our Medical Commission.
What is Arteriosclerosis Obliterans?
Arteriosclerosis obliterans is a coronary artery disease (a type of heart disease) that is characterized by a disturbance of blood circulation. The main characteristic of this coronary artery disease is the diminution of the blood flow in the legs or arms. As a result, the blood does not flow adequately to your hands and feet, which can cause pain.
The vessels that provide your stomach, intestines, and kidneys with blood can be affected.
Besides, blood flow to your heart and brain may get lowered because of fatty deposits accumulation in your veins.
What Causes Arteriosclerosis Obliterans?
There are many risk factors that induce arteriopathy obliterans (ASO) which is the most common peripheral vascular disease. The causes of ASO include:
Ageing;
Congenital heart defects;
Being a male;
Cigarette smoking;
High blood pressure (hypertension);
High blood cholesterol (hyperlipidemia or hypercholesterolemia);
Type 1 diabetes (or diabetes mellitus);
Kidney failure;
High level of Homocysteine hormone.
What are the Main Causes of Occlusive Arterial Disease?
Atherosclerosis is a progressive increase in fatty deposits in the artery wall. It can lead to peripheral artery disease.
Although the focal point of atherosclerosis is the heart, the whole body can be affected by this illness.
Cigarette smoking and metabolic disorders are the main causes of occlusive arterial disease.
What are the Symptoms of Occlusive Arterial Disease?
Some people with the occlusive arterial disease may feel pain in their legs (claudication) whereas others may not have any symptoms.
Muscle pain at the level of either your legs or your arms is one of the claudication signs. It starts when you are walking or doing an activity. However, if you rest that pain will disappear.
Occlusive arterial disease indications encompass:
Pain in your hips or thighs after walking or climbing stairs.
Tingling in the legs extremities.
Your lower leg is cold in comparison with other parts.
Inflammation in your feet, toes or fingers.
Alteration of the colour of the leg.
The growth of your toenails becomes slow.
Arteriosclerosis Obliterans Treatment & Diagnosis in Turkey
The therapy aims at relieving hypothermia (sensation of cold) and leg pain (claudication) in people with ASO. It consists of pharmacotherapy including antiplatelet and vasodilatory medicines, which are useful. Adsorption of LDL (low-density lipoprotein) is also efficient for the treatment of arteriopathy obliterans in Istanbul, Turkey.
The diagnosis of atherosclerosis includes many clinical tests, such as:
Arteriogram or angiogram
Angiography or arteriography is radiography employed to picture the inside, or cavity, of the veins and organs of the body. It consists of imaging the arteries and the heart chambers in particular.
Ankle/brachial index (ABI) measurement
The ankle-brachial index (ABPI) or ankle-brachial pressure index (ABI) is a ratio. The latter is calculated by dividing the blood pressure in an ankle by the blood pressure in the upper arm (brachium). If the number is inferior to 0.9, it may be a sign of occlusive artery disease (PAD) in the legs' arteries.
Pulse-wave velocity (PWV) estimation
Pulse wave velocity is the speed at which the blood pressure pulse propagates through the circulatory system. It also indicates the arterial stiffness quantification or the rate at which pressure waves move down the vessel.
The test of circulating hs-CRP levels
The hs-CRP Test is for obviously healthy people to check if they are running a risk of cardiovascular disease. The score of CRP is between 0.5 and 10 mg/L.
Here are the general guidelines for hs-CRP scores:
If it is inferior to 1.0 mg/L then there is a low risk of cardiovascular disease;
When it is between 1.0 and 3.0 mg/L then there is a median risk of cardiovascular disease;
If it is superior to 3.0 mg/L then there is a high risk of cardiovascular disease;
In the case of a hs-CRP score that is higher than 10 mg/mL, it indicates acute inflammation.
However, these tests can only be possible when atherosclerosis has already developed.
The Arteriosclerosis Obliterans Treatment Cost& Price t in Istanbul Turkey
Turquie santé will provide you with the best techniques of arteriosclerosis obliterans treatment in Turkey. Experienced doctors will be in charge of performing your heart surgery to cure your occlusive arterial disease.
Indeed, we are with the most recognized Turkish cardiologists, doctors, and surgeons in the most reputed Turkish medical centers. You will receive high-quality care in the most outstanding hospitals or clinics in Turkey, Istanbul, Antalya, or Ankara.
Although the average price of health services may be very cheap, the medical procedures' success rate with Turquie Santé is high.
Share this page
Frequently asked questions
The obliterative arterial disease of the lower limbs or also known as PAD disease is generally diagnosed by a specialist, such as a general practitioner, cardiologist, or angiologist.
Diagnosis is based on :
Anamnesis: by checking the medical history of the patient
Physical examination: focusing particularly on the physical condition of the lower limbs
Systolic pressure index (SPI) measurement: measurement of arterial pressure (at the ankles and arms) using a Doppler.
Complementary examinations: echo Doppler, angiography, color Doppler ultrasound, computed tomography (CT),or magnetic resonance imaging (MRI).
Foods rich in fat should be avoided. It seems that white meats, fish, vegetables, and fruit are preferable to red meat. A diet based on olive oil is also recommended.
The life expectancy of a person with PAD can vary considerably, depending on many factors. It's important to note that PAD is not a fatal disease, but it can be associated with an increased risk of serious cardiovascular complications. Nevertheless, it may require a leg or foot amputation if left untreated.
The peripheral arterial occlusive disease is closely linked to smoking. This latter is one of the main risk factors for the disease development. According to recent studies, 90% of people with atherosclerotic disease of the lower limbs have a smoking history or are current smokers.
People with peripheral arterial disease need to maintain good blood circulation and promote cardiovascular health.
In many cases, moderate-intensity activities such as walking, swimming, and indoor cycling can help improve blood circulation and strengthen leg muscles.