Nasolabial filling: Fillers for wrinkles
What's more beautiful and attractive than a beautiful face with well-drawn features without wrinkles? Thus, the beauty and youthfulness of a face are strongly linked to a shiny skin, beautiful smile, and luscious lips. However, several factors can alter it such as age advancement, smoking, and excessive exposure to the sun. Cosmetic surgery always gives the necessary solutions to correct these problems: nasolabial filling.
The accuracy of the content has been reviewed by our Medical Commission.
Gallery (1)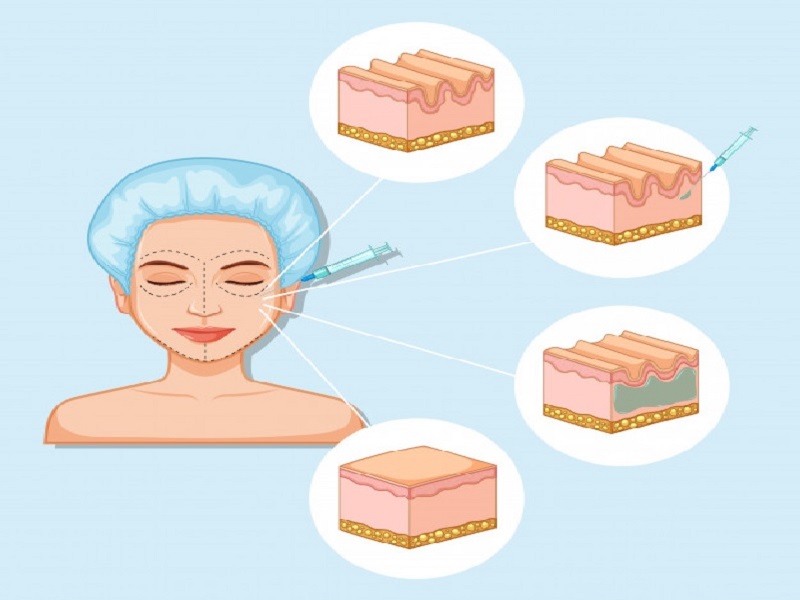 Who is this procedure for?
People with sagging skin
Wrinkles
Aging
Alternative treatments
Botox injections
Face lift
Filler
Intervention or treatment's duration
The session lasts between 10 to 30 minutes.
Recovery time
The results are visible from the first day of the intervention
The effect lasts from 6 to 9 months
Photos: Before / After (6)
How it works ?
What is this Cosmetic surgery?
Nasolabial filling is an aesthetic technique that treats skin aging with hyaluronic acid injection. This technique can treat several facial areas such as forehead wrinkles, eyebrows, nose, nasogenic furrows, nasolabial folds, contour and volume of the lips ...
Hyaluronic acid is described by cosmetic surgeons and beauty specialists as "the miracle molecule" because it helps treat wrinkles, protect, and preserve the tonicity of the skin as well as dehydration.
Each person notices the appearance of wrinkles can use this technique even at the age of 30. Its results are not durable and require repetition after 6 to 9 months.
The nasolabial filling technique can be combined with other types of aesthetic medicine such as laser hair removal and facial peeling.
Procedure of a nasolabial injection session in Turkey & Istanbul
Wrinkle treatment requires in most cases 4 sessions. Before each session, the patient should show up without makeup, avoid exposure to sunlight or UV rooms and take aspirin for the 15 days preceding the session.
This is a simple technique where the doctor injects the acid into the affected areas using a subcutaneous infusion. It does not require anesthesia and lasts between 10 and 30 minutes.
What is the Price in Turkey & Istanbul?
The cost of nasolabial filling in Turkey & Istanbul is much cheaper than that in Europe while guaranteeing excellent quality.
Compare free quotes of hospitals and clinics in Istanbul, Izmir, Ankara, or Antalya. The appointment is also free of charge.

Turquie santé will be in charge of negotiating the best prices for your medical stay in Turkey. The most reputable clinics and hospitals work with us in a number of cities in Turkey.