What is a dietary consultation?
People with diseases can have a dietary consultation. In addition to being followed by a trained professional that takes into account the needs and desires of the person, changing your diet and eating habits can help to cure or at least improve certain diseases closely related to diet, such as obesity.
To achieve this goal, our best dieticians try first to enter into dialogue with customers to examine their eating habits. Thanks to their long experience, they can prepare a nutritional plan with the patients. After a first phase in which they learn to put into practice what is provided by the plan, the patients will be in charge of taking control over their diet. This practice not only guarantees an independent monitoring of their own feeding, and therefore the observation aimed of eventual changes as a result of the new alimentary habits (as an example the quantity and the choice of the aliments),but also offers to dieticians concrete indications on any aspects that require some improvements. Each personalized consultation aims to stimulate and encourage a change in individual habits. In many cases, dietary consultation, which becomes an integral part of comprehensive therapy, involves doctors or other specialists.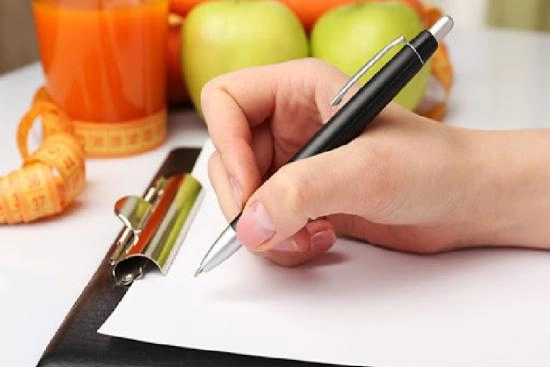 The accuracy of the content has been reviewed by our Medical Commission.
Who needs it?
The diseases that can be treated through a dietary consultation are:
Obesity.

Dyslipidemia.

Type 1 and type 2 diabetes.

Cardiovascular disease.

Skin diseases (psoriasis and acne)

Gout.

Autoimmune diseases (Hashimoto thyroiditis and rheumatoid arthritis)

Hypertension

Gastrointestinal diseases (acid reflux, Crohn's disease, ulcerative colitis, irritable bowel syndrome or IBS)

Kidney failure.

Malnutrition.

Food intolerances (lactose intolerance, celiac disease, etc.) and food allergies.

Eating disorders (anorexia, bulimia, or binge eating disorder).
Book online with Turquie santé
Dietary consultations can be made via video calls using Whatsapp. The online consultation allows you to stay comfortably at home and agree on the most suitable time for your needs.
The online consultation includes a 40-minute interview during which we will evaluate your lifestyle and eating habits together. You will be asked to detect the weight and height and if possible the waist circumference. After 3-4 days from the first interview, our dieticians will send you the personalized meal plan and all the useful tips through email. They will always be available for any information and/ or doubt.
From time to time, Whatsapp or telephone interviews will be scheduled for about 30 minutes. The follow-up visits are used to assess together the progress of the meal plan.
What does the first visit involve?
During the first dietary consultation, the clients' personal data and weight history are collected. The dieticians and the patients will talk about any previous nutritional plans and the reasons for which they require professional advice. It is at this stage that a first relationship of mutual trust is established. Besides, the customers' state of health will be determined. If there are no recent clinical analyses within the last year, the customers will be required to perform them. After the informative interview, we proceed to carry out what is called nutritional history which is necessary to assess nutrient and energy needs. This is accomplished through 3 fundamental phases:
Dietary history and estimate of energy needs: the dieticians who work in the best clinics and hospitals in Turkey, Istanbul, Antalya, Ankara, and Bursa will ask you a number of questions about your daily eating habits, family, work, personal lifestyle, tastes, preferences, and the performance of regular physical activity.

Nutritional anthropometry: body measurements related to weight, height, and main body circumferences (waist, wrist, arms) will be carried out.

The assessment of body composition through the bioelectrical impedance analysis will allow us to estimate in more detail the different body components such as lean muscle mass, fat mass, and body fluids.
After collecting all the data, an initial nutrition plan will be defined together with patients. This is because the diet should not be an imposition, but it will be built together with patients in order to make it as practical as possible for them and respectful of their tastes, lifestyle, and their nutritional needs. Finally, both the dietician and the patient will decide on the objectives to be achieved in the short and long terms and they will plan the frequency of follow-up visits.
What is the price in Turkey and Istanbul?
A dietary consultation intends basically to change and improve the physical appearance of the patient and the costs should be a secondary element, compared to the final result. But, in reality, we know that the price of this kind of consultation can be an important element in the choice of the professional you rely on. Turquie Santé assures you a better price for all your treatments in Istanbul Turkey.
Share this page