Before / After photo How can one have luscious and natural lips ?
To plump the lips the cosmetic surgeon proceeds to a very fine filling of the lips. The goal is to increase the volume, hydrate, and correct a possible asymmetry and erase the ridiculous.
What is hyaluronic acid ?
It is a product naturally present in our body. It retains water in the body which allows better hydration. Unlike collagen, which is no longer used, hyaluronic acid makes it possible to have soft, thin lips.
What preparations before filling ?
A first consultation with the surgeon is essential. First there is an examination and a full examination.
To prevent any complication and treatment failure, any drug that interferes with blood coagulation should be stopped at least ten days before the operation. Therefore, antis inflammatories, corticosteroids, antis vitamins K, vitamin E and fish oil should be stopped of course after special advice.
Our partner clinics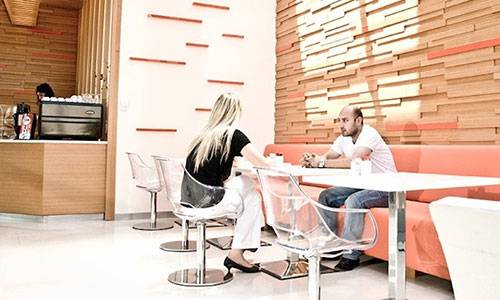 How is the injection of the lips?
The operation lasts only a few tens of minutes. We start with a disinfection of the lips. The procedure is performed under local anesthesia because the injections are not painful and then the filling is started.
The surgeon injects hyaluronic acid using an ultra thin needle. It changes the volume by redrawing the outlines. And in order to erase the wrinkles, he spread the product fan to tighten the skin. Finally, he puts a glaze on the lips
The results are immediate, we get thinner lips, more voluminous, well hydrated and without wrinkles, in short a younger aspect.
What are the postoperative consequences?
The consequences are generally simple, one can have a redness, an edema, and some bruises which fade after two to three weeks.
Are there any complications after filling the lips?
Complications are very rare. An allergic reaction or blood clots can be seen, that's why the intervention should be done in a doctor's office.
How to maintain the lips after filling ?
Do not touch the lips the first few days after filling, otherwise stop smoking.
The results are not definitive because hyaluronic acid is a resorbable product and the duration of the filling effect is 6 to 12 months.
What other alternatives besides hyaluronic acid ?
There are other techniques:
Increased lips by collagen injection: the use is limited by the allergic reaction with bovine collagen and the very high cost with human collagen. The operation is fast, but must be renewed because this product is absorbable.
Lipostructure or lipofilling: this technique involves injecting autologous fat into the lips. This fat can be removed from the abdomen. The operation is much longer, 1h30. This product does not cause rejection or allergy.
What is the price of LIP FILLING in Turkey & Istanbul
The cost of a LIP FILLING procedure in Turkey and Istanbul depends on the product used and the selected clinic. Turquie Santé negotiates for you the best cost and cheap price for any medical lip filling intervention.
Last update : 20/10/2019