Embrace the timeless beauty of enchanting eyes through the innovative surgical technique of fox eyes. Tailored to enhance your natural features, fox eyes surgery delicately lifts and subtly elongates the eye shape, providing a subtle yet undeniable transformation. Imagine the sensation of attracting admiring glances, as your captivating gaze leaves a lasting impression.
Any Question ?
Get in Touch.
We're Here to Help.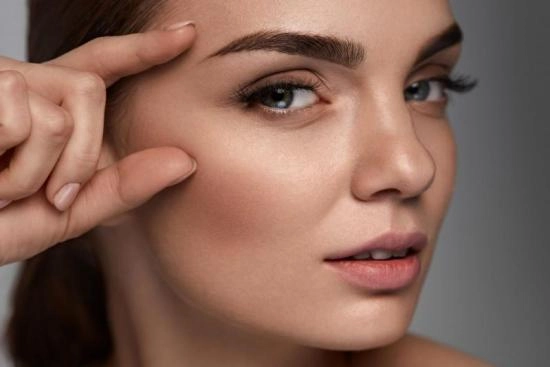 Who is this procedure for?
Patients who have the expression of facial sadness are caused by drooping eyelids.
Patients who fight aging and want to eliminate eye bags.
Patients who have very round eyes and look for a more almond-shaped
Intervention or treatment's duration
The accuracy of the content has been reviewed by our Medical Commission.
What is Fox Eyes surgery?
Fox Eyes or Canthopexy is one of the surgical procedures that is usually performed in addition to blepharoplasty or eyelid surgery, although it can also be performed independently. It is used to tighten the lower eyelid in patients who have a lax lower eyelid.
With the canthopexy, we give a more almond-shaped eye and avoid the expression of sadness that a more rounded shape provides. Thus, we can say that it exerts a certain tension in the angle of the eye and lifts its outer corner.
How is a Fox Eyes surgery done?
Canthopexy is a very simple surgical technique to tighten and correct the drooping of the outer corner of the eyelids. This minimally invasive procedure can eliminate the look of sadness in the eyes and restore a more almond-shaped eye.
This treatment is performed through a small incision in the lower eyelid area. Thus fixing the membrane that covers the entire orbital rim, while raising and tensing that area of ​​the eye.
Like other cosmetic eye surgeries, canthopexy does not entail any kind of risk or inconvenience for the patient. As long as it is carried out together with a good team of specialists, and they follow the medical recommendations and guidelines during the postoperative period.
Both canthopexy and blepharoplasty are two medical procedures that are performed through small incisions, practically imperceptible to the human eye, in the eyelid area. The surgeon may recommend that the patient undergo both procedures together to achieve a total rejuvenation of the appearance.
Why get a Fox Eyes?
As our best collaborative surgeons with Turquie santé explain, canthopexy is a facial cosmetic surgery with a great effect on the look. This technique will:
Rejuvenate the overall appearance of the face.
The eyes regain their almond shape and sweetness.
Obtain a "mini lifting effect" on the skin of the eyelids.
Stylize the patient's facial expression.
Eliminate that feeling of tiredness and sadness in the eyes.
Resolve possible asymmetries caused by facial paralysis problems.
Correct eye bags (anti-aging treatment).
Correct sagging and muscle tone of the eyes.
Canthopexy before and after
Canthopexy is an outpatient procedure that does not require hospitalization. It is performed under local anesthesia only, although additional sedation can be used if the patient requires it. The approximate duration of the procedure is one hour, but it can vary depending on the patient and if it is performed together with blepharoplasty.
In summary, canthopexy can be used to correct the appearance of your eyes by restoring tone to the lower eyelids and styling eyes that are too round. It can also be used to correct asymmetries, such as those caused by facial paralysis, and can be a good complement to blepharoplasty, using the same incisions.
The price of this procedure depends on whether you decide to have the Fox Eyes surgery only or in combination with a blepharoplasty.
Post-procedure Guidelines
With fox eyes surgery, you can unlock a newfound level of self-assurance and embrace a more youthful appearance. This procedure masterfully accentuates your eyes' shape, accenting their unique beauty and allowing them to sparkle with an irresistible radiance.
Following the procedure in our partners clinics in Antalya, Turkey:
It will be necessary to rest for the next 24 hours.
From the second or third day after the intervention, you will be able to lead a normal life.
The specialist will indicate the steps to follow for an adequate post-operative procedure.
Price of Fox Eyes surgery in Istanbul & Antalya Turkey
If you are thinking about a canthopexy or Fox Eyes surgery in Istanbul & Antalya Turkey, you should understand what the procedure consists of. The information on this page cannot replace the advice that our partner clinics in Turkey can give the patient in a first free consultation.
For more details, you can contact Turquie santé. We will negotiate to you the best prices in our clinics in Istanbul, Turkey.
Share this page
Frequently asked questions
As a general rule, most surgeons recommend waiting until adolescence is over (reaching the age of 18),before proceeding with a canthopexy. As the facial structure and eye proportions can still evolve during the growth period.
The Fox Eyes operation may not be recommended in certain situations:
Under-age
General health problems
Pregnancy or breast-feeding
Active infections or skin problems
A good candidate for canthopexy, or canthoplasty, is generally a person in good health who wishes to modify the asymmetrical or sagging appearance of his eyes' outer corners to achieve a more stretched and almond-shaped appearance.
Prices for Fox eyes surgery in our partner clinics in Turkey are generally lower than in other Western countries. Then, the procedure cost varies between 2,100 and 2,500 euros.
The Fox Eyes results duration can vary from one person to another. They are generally considered long-lasting, but it's important to understand that the natural aging process can continue to affect the eyes' appearance over time.