What are Calf Implants?

Calf implants in Turkey are silicone-based products designed to improve the surface of the calf. Calf augmentation is a surgical procedure that is performed by plastic surgeons only.
You might be curious about calf implants if you are concerned about the appearance of your lower legs. Men and women are known to get calf implants.
Overall, calf implants have high rates of effectiveness and low rates of side effects. But, since all cosmetic surgeries can be risky and expensive, it is important to learn all the ins and outs of calf prosthesis procedures before making your appointment.
The accuracy of the content has been reviewed by our Medical Commission.
Gallery (1)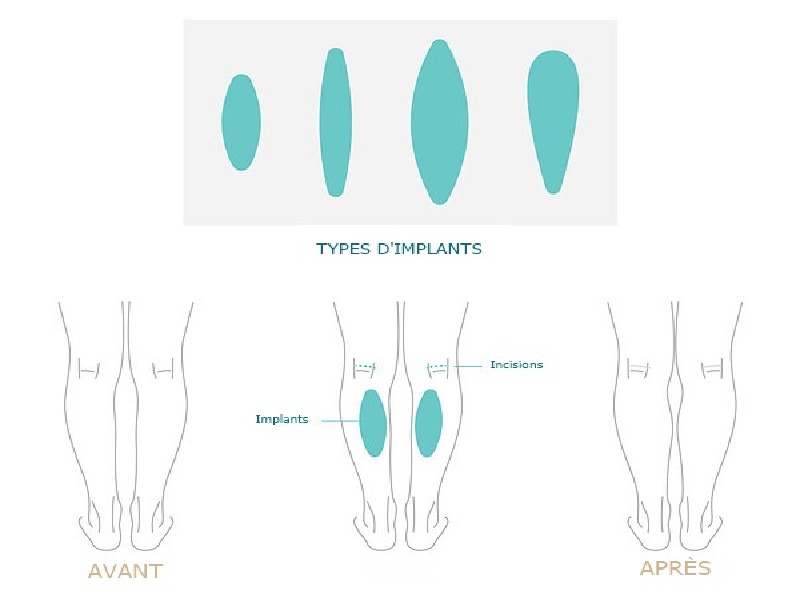 Who is this procedure for?
Deformed calf muscles from birth "arched legs"
Muscle damage due to infections or injuries
Cosmetic reasons to change the appearance of the legs
Side effects
Pains
Inflammation
Infections or hematoma
Intervention or treatment's duration
The surgery lasts from 1 to 3 hours
Recovery time
Discharge from the hospital the day after the procedure
Return to work 2 weeks after surgery
Complete recovery of calf tissue 6 months after surgery
Photos: Before / After (2)
How it works ?
What are the prices of Surgical Intervention in Turkey and Istanbul?
You will need to consider other costs associated with the procedure that are not covered by your surgeon's fees. These include anesthesia, hospital rooms and medication. You may want to factor in the time you will need to be away from work if you do not have enough paid vacation time.
Calf augmentation in Turkey is an aesthetic procedure, so insurance does not cover it. It is a good idea to collect all costs in advance and set up a payment plan, if necessary.
How do they work?
Calf implants contain silicone, which is a durable material similar to rubber. When inserted under the skin, it gives the area an aspect of fullness. This can be useful in providing more fullness to the calves in absence of defined muscles. In turn, your calves will also be larger in size.
The Procedure for Calf Implants
Calf implant surgery takes about an hour and a half. This does not count the preparation time before surgery, as well as the recovery from anesthesia. In all, you should expect to spend an entire day on your procedure.
Before the actual procedure, the anesthesiologist will anesthetize you. This puts you to sleep during the surgery so that you do not feel any pain. Anesthesia is given locally with a mask or intravenously with needles through your veins.
During the procedure, your cosmetic surgeon will make incisions in the calves and then insert the silicone implants. The skin is then stitched up.
Targeted Areas
Calf prostheses in Turkey are used to improve only the back of the lower half of your legs. If you have other cosmetic concerns about your legs, such as thigh shaping, you will need to talk to your surgeon about any separate procedures.
Calf Prostheses against Fat Transplantation
Another option for large calves is a procedure called fat grafting. Rather than inserting implants into your calves, fat grafting involves transferring soft tissue from the skin to another part of the body.
In some cases, calf implants are used in conjunction with fat grafting for more precise body shaping.
Fat transplantation is not as invasive, it requires less anesthesia. For the best results, your surgeon can recommend the two procedures together.