Reshape the body after having children
Pregnancy, childbirth, breastfeeding and other factors all contribute to the changes that occur in a woman's body after having children. When exercise and diet programs are not enough to achieve the desired results, patients may consider a Mommy Makeover, which is a combination of procedures, to reshape their bodies.
Since no two women are alike, our surgeons make sure the procedures are appropriate for each patient. We recommend options for women by applying the latest technologies, products and techniques to achieve safe and effective results.
Our team of plastic surgeons is recognized internationally for their exceptional clinical care and innovative research. One of the characteristics of plastic surgery with Turquie santé is the accessibility of our doctors to patients before and after surgery in order to provide them with advice and answer their questions.
The accuracy of the content has been reviewed by our Medical Commission.
Gallery (1)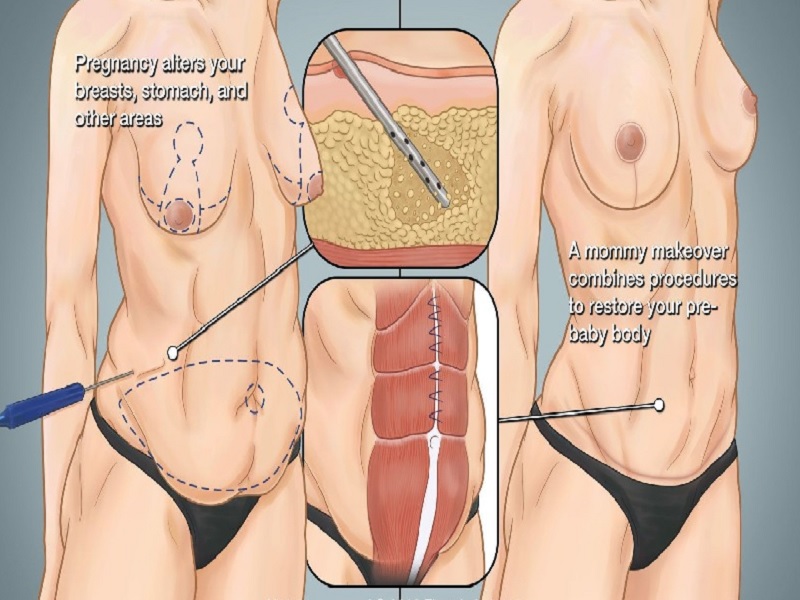 Who is this procedure for?
Patients wishing to reshape their bodies after childbirth
Patients who want a radical change in their body types
Patients with excess belly fat and a change in breast shape
Side effects
Hematomas
Scars
Bleeding
Pains
Intervention or treatment's duration
The operation lasts between 1 and 3 hours
Recovery time
Back to daily activities 1 week after the operation
The bruises will be visible for at least 2 weeks
Total recovery after 3 weeks
Result visible 9 months after the operation
Photos: Before / After (4)
How it works ?
About Mommy Makeover
Below are some of the most typical procedures used by women as part of a Mommy Makeover:
Body contouring : may include a tummy tuck to remove excess skin or fat to get a flatter stomach, liposuction and non-surgical options to shape the body and remove fatty areas.
Breast surgery : breast lift or breast reduction to change the shape and / or size of the breasts.
Facial rejuvenation : injectable products like Botox, and non-surgical options such as ultra therapy to reduce fine lines or wrinkles on the face, or lasers or chemical peels to remove dark spots on the skin.
Other treatments and skin care services: varicose veins on the legs, laser hair removal and permanent makeup (or cosmetic tattooing).
What to expect?
During the initial consultation, we discuss with patients their general health and expectations, and we discuss options and procedures that might work best. Recovery time will vary depending on the surgical procedures involved.
To achieve long-term results, it is important to maintain a healthy diet. We can recommend a diet and exercise plan to help patients maintain the long-term impact of a Mommy Makeover.
When you undergo a Mommy Makeover, you are making an investment in your appearance, your self-confidence and your quality of life. The cost can be significant, but if you learn about the factors that affect the price of a Mommy Makeover, you can make wise choices and reap the benefits that justify the price.
What is the price of Mommy Makeover in Turkey and Istanbul?
It is important to note that the cost of a Mommy Makeover can vary considerably from one patient to another and it often does not include other surgical expenses. The main costs are the surgeon's fees, establishment costs, anesthesia costs, post-operative costs and implant costs.
But again, the final cost will depend on various and variable factors like the following:
Selection of the surgeon
Surgical establishment
Expenses related to surgery.
Why do patient reviews seem extremely important to Turquie santé ?
Your opinion is a resource for improving the customer experience and adapting our actions to your needs. We are constantly listening to the voices of our patients. As a result, whether you are a current or potential patient, your comments are appreciated.