Before / After photo Is it a good idea?
Laser has been used for years in cosmetic medicine. More recently, various kinds of lasers have been perfected. This has improved the results of scars and traces left by acne, to the point that nowadays, these treatments are often proposed as first-line treatments, especially fractional laser treatments.
Currently, the three most frequently employed laser types in dermatology are fractional lasers, pulsed-dye lasers and pigment lasers.
The most used lasers to get rid of acne scars
Fractional lasers have two types which are:
Ablative lasers act more quickly but destroy the epidermis by leaving small crusts, used mainly to treat acne scars in people with thick skin.
Non-ablative lasers possess fewer side effects because they do not destroy the epidermis but their effectiveness is observed especially in people with thin skin.
Fractional lasers can be CO2 or erbium. The latter is a rare earth metal that is characterized by its malleability and flexibility.
The erbium laser is used mainly for its ablative effect, interesting to treat scars with irregularities on the surface.
The pulsed CO2 laser has an ablative but also thermal effect and therefore its tensor effect is more important and therefore more interesting in the case of close scars.
The dermatologist is the only person who will be able to choose the type of laser and the number of sessions that are suitable for each patient.
Fractional laser resurfacing: how does it work?
The resurfacing treatment is most often carried out under locoregional or general anesthesia, with eye protection by extra-eyeglasses or steel lenses to protect the cornea. Then, the operator scans the skin several times to remove irregularities on the skin surface and to re-tensions the skin if the CO2 laser is used.
After the session, a redness will appear gradually. The specialist will prescribe local care that must be respected until the complete healing occurs between 10 and 15 days with the CO2 laser and between 8 and 10 days with the erbium laser. Burning or itching sensations are possible and will be treated with painkillers.
As the healing process is slow, redness can persist for 1 to 3 months. The results are evaluated from this period but the final results will not be visible until the 6th month.
Our partner clinics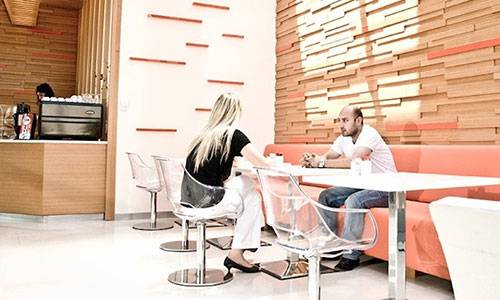 What are the benefits of this Intervention?
Laser treatment for acne is effective for inflammatory lesions. It regulates sebum secretion and provides further enhancement by tightening pores and alleviating the most superficial scars by stimulating the collagen it induces.
The Cheapest cost in Turkey and Istanbul
Your consultation of cosmetic surgery will not be charged with Turquie santé.
The price depends on the duration of the session and the importance of the area to be treated. You can choose to treat your acne with laser in Turkey, Istanbul, Ankara, Antalya, & Izmir. Your dermatologist will offer you the best treatment option that is adequate for your specific case.
Last update : 01/04/2020