Difficulty in urinating, with a slow emission and a low flow of urine, a feeling of a full bladder even after urinating, or an uncomfortable night with a constant urge to urinate, are obviously symptoms of benign prostatic hyperplasia (BPH). Also known as benign prostate enlargement, this non-cancerous disease is curable through REZUM treatment.
If you are thinking about treating benign prostatic hypertrophy, Turquie Santé offers you the best options at unbeatable prices in Turkey. You can get a free urology consultation from now!
Any Question ?
Get in Touch.
We're Here to Help.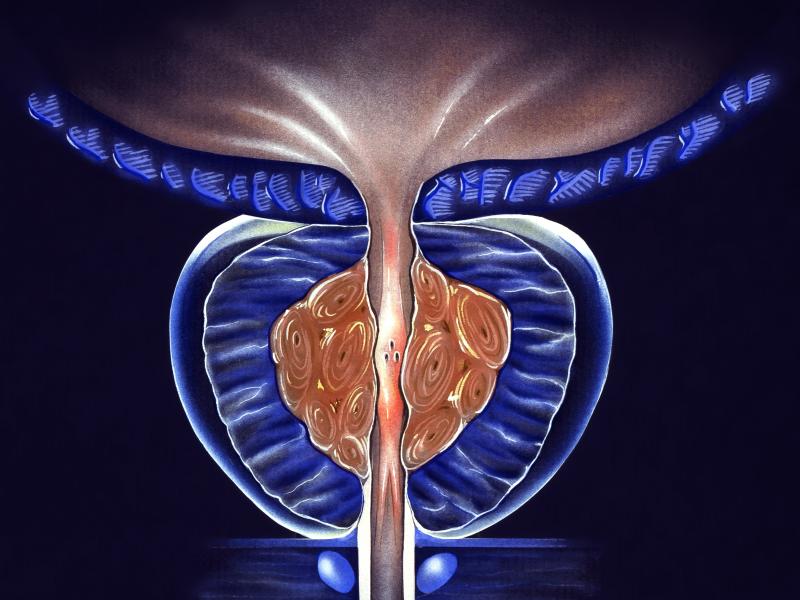 Who is this procedure for?
Men 60 years of age and older with benign prostatic hyperplasia (BPH)
Men with lower urinary tract symptoms (LUTS)
Patients with a prostate volume between 30 and 80 ml
Patients who are intolerant to medical treatment of BPH
Intervention or treatment's duration
The accuracy of the content has been reviewed by our Medical Commission.
What is the REZUM treatment?
REZUM is a therapy that treats benign prostatic hyperplasia resulting in enlarged prostates. In fact, the REZUM procedure uses steam (heat energy) to relieve prostate problems such as urethral obstruction and prostatic hypertrophy. By using hot steam, doctors are able to remove excess tissue from the prostates. The REZUM's effectiveness has been proven by doctors due to the relatively low risk of any complications.
REZUM treatment with Turquie Santé: How is it performed ?
The basic principle of the REZUM treatment is that it transforms sterile water into hot water through a radiofrequency generator. Steam injections are then administered endoscopically. The steam generated by thermal energy is then delivered to the prostates at a normal temperature (equal to body temperature 37 °C). Thanks to the convection phenomenon, the temperature of the steam then reaches 70 °C in the areas to be treated. The generator controls the flow and temperature of the injected steam. The result generated by the rise of temperature is the cells' prostates death, which will be subsequently absorbed by the body to reduce finally the tissues adjacent to the urethra.
Benefits of Benign prostate enlargement treatment in Turkey
Using the REZUM treatment does not present any risk of bleeding due to the phenomenon of steam condensation. In addition, this technique allows the preservation of the erectile and ejaculatory functions of men. Since the REZUM treatment is a minimally invasive procedure, it takes no longer than 15 minutes. The procedure may require local anesthesia under certain conditions with few side effects.
Thanks to its partnership with the best clinics highly equipped with the latest technology, Turquie Santé allows you to take advantage of a REZUM treatment package with competitive prices. Our aesthetic surgeons ensure the success of your treatment to recover your prostates with an appearance as close to natural as possible, with an effectiveness maintained for at least 5 years.
What are the treatment of BPH indications?
The risk of developing benign prostate enlargement increases with age, generally affecting men after 60 years of age. Also, this treatment is strongly recommended for men with a prostate volume greater than or equal to 30 ml. It should be noted that the average volume is 20 cm³ for 20 gr. REZUM is also indicated to treat lower urinary tract symptoms (LUTS) without compromising your sex life. You can resume your daily activities within a few days without any complications.
Best treatment for benign prostatic hyperplasia
There are many techniques to treat benign prostatic hyperplasia, the most well known are: the TURP technique and the HOLEP technique. The optimal result is guaranteed to eliminate any urinary problem following the realization of both procedures. In fact, the TURP technique consists of a transurethral resection of the prostate through surgery. The HOLEP technique uses laser enucleation to remove a single block of benign prostate hyperplasia (BPH).
Nevertheless, the ejaculatory function disappears completely right after the two above-mentioned operations. This is the reason why most men prefer to use the REZUM method.
Price of prostate adenoma treatment in Turkey
The price of a REZUM water vapor therapy in Turkey obviously includes the anesthesia fee, the surgeon's fee and the hospitalization fee. The prices in Istanbul, Turkey are considerably more competitive than those for the same procedure in Europe and Russia. Turquie Santé guarantees you an unparalleled experience thanks to a team of competent assistants who will accompany you throughout your stay.
Share this page
Frequently asked questions
The REZUM procedure, which treats prostatic hypertrophy, costs between 2800 and 5000 euros in Turkey clinics. Costs may vary according to several factors, depending on the patient's state of health and clinic fees.
Since Rezum is a minimally invasive procedure, it can be performed even in a urologist's office.
Clinical studies have shown that Rezum procedure can improve BPH symptoms for up to 5 years.
It should be noted that this new technology does not have any serious side effects. However, frequent urination and urinary bleeding may occur. Patients may also experience frequent urination.
According to clinical studies, no erectile dysfunction has been reported following the Rezum procedure. However, temporary ejaculation problems may occur, such as retrograde ejaculation or a reduction in the quantity of semen ejaculated.