Vaginoplasty become a very common practice around the world and has become one of the most popular cosmetic surgeries.
The main types of genital surgery performed by plastic surgeons are Labiaplastyand Vaginoplasty.
Labiaplasty surgery: also called vulvoplasty, consists in remodeling the little lips.
Vaginoplasty: Vaginal rejuvenation involves reshaping the internal muscles of the vagina to make it softer and tighter.
Any Question ?
Get in Touch.
We're Here to Help.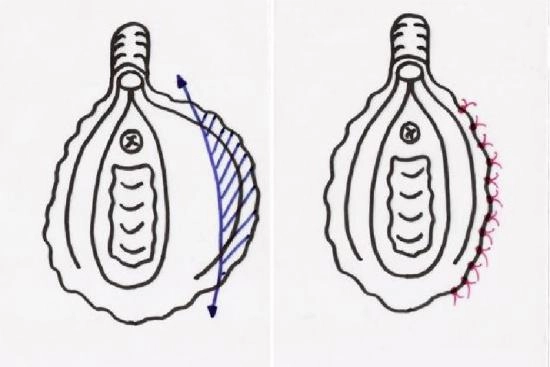 Who is this procedure for?
Women with loose vaginas due to childbirth or aging
Women with mild hypermobility
Women with overdeveloped or hypertrophic genital labia
Women under 40 represent 95% of the demand
Side effects
Bleeding
Discomfort
Urinary infection
Pains
Intervention or treatment's duration
The intervention lasts between one and two hours
Recovery time
Work unavailability from 2 to 7 days
Back to sports activities after 6 weeks
The final result is visible after 3 months
The accuracy of the content has been reviewed by our Medical Commission.
Labiaplasty in Istanbul Turkey: When is it needed?
Women are looking for these cosmetic and aesthetic surgeries such as tummy tucks and mommy makeovers in Turkey & Istanbul. They seek to reduce the size of the small lips or make them symmetrical in labiaplasty clinics. In addition, they may have a feeling of discomfort. Hypertrophy of labia minora or labia majora can be so uncomfortable.
Especially when a woman sits for a long time, or practices sport or sexual activity. So they desire smaller lips with labiaplasty procedures to provide more sexual pleasure.
What about Vaginoplasty in Turkey & Istanbul?
In postpartum, the vagina may present morphologic changes, prolapse, and distension of painful scars. The medical treatment of these conditions is currently possible, including perineal rehabilitation.
Indications for plastic surgery on the vagina are more and more numerous:
Removal of painful scars after childbirth.
Treatment of painful vaginal muscular contraction (vaginismus).
The vagina is too narrow (vaginal opening) or too stiff.
Vaginal gap.
Tightening of the vaginal muscles.
What are the Therapeutic Proposals?
Atrophy of vulvovaginal mucosa
Vaginal atrophy (atrophic vaginitis) can be caused by a decrease in estrogen levels secondary to the taking of certain drugs or menopause. The mucosa becomes less vascularised which causes dyspareunia (pain during intercourse) and can be a source of genital infections. Then, the gynecologist introduces a laser into the vagina that stimulates the synthesis of a new layer of collagen. It makes the mucosa thicker and more tonic.
This is a vaginal release, secondary to childbirth or menopause. It can be the cause of dyspareunia and an alteration of sexual satisfaction.
Sigmoid or Intestinal Vaginoplasty
Intestinal or sigmoid vaginoplasty is a procedure where a segment of the large intestine is used to create the new vagina. It is usually performed through laparoscopy.
Laparoscopic surgery is a minimally invasive technique. During this surgery, The surgeon will introduce short and thin tubes (trochars) into the abdomen through very small incisions.
For this procedure, a tiny piece of the sigmoidal intestine is disconnected. Then, it is turned out down to become the protective covering of the vagina. Then, The surgeon will stitch the surrounding tissues together to restore the sigmoid function.
Advantages & disadvantages of Intestinal or Sigmoid Vaginoplasty
A lot of people see the mucous secretion by the intestinal tissue as a benefit. The healthy vaginal epithelium also produces mucous, and it is self-moisturizing. Compared to other tissues, the large intestine segment is as stretchable as the regular epithelium of the vagina.
There have been few disapprovals that intestinal vaginoplasty may cause excess mucous secretion in the vagina with an awful smell. However, these side effects have not been frequently noticed.
Laser or surgery?
The aesthetic treatment is surgical, the surgeon reduces the diameter of the vagina by bringing the muscles together.
Plastic surgeons opt for laser treatment sometimes. V-Lase is a non-invasive vaginal esthetic procedure that aims to rejuvenate the vagina. It restores the youthful epithelium thickness and moisture.
Painful vaginal scars
In the postpartum period, painful vaginal scars can persist. This can cause vaginal pain and droughts, causing genital infections.
The treatment is surgical under local anesthesia. It involves removing "bad scars" and injecting fat from the thigh, for example.
Labial Reduction: reducing the size of small lips
Labial reduction is a surgical procedure that aims to reduce the dimension and shape of the labia minora (small lips). The reasons for this procedure are either functional or aesthetic. However, in the majority of cases, the aesthetic need is prevailing.
This operation in Istanbul is carried out under local anesthesia in a hospital or a clinic. The surgeon makes incisions in the small lips and brings them closer with absorbable thread.
Is Labial Reduction painful?
Most women choose general anesthesia when they undergo a labial reduction, so they won't feel anything. Any irritation or discomfort felt after the procedure will be treated with medicines given by the doctor.
The pain will usually decrease within a few days.
Vaginoplasty & Labiaplasty costs in Turkey
Vaginoplasty and labiaplasty cost in Turkey differs depending on the operation. Indeed, each procedure has its price. However, whether it is for vaginoplasty or labiaplasty procedures, the prices remain the cheapest compared to other countries.
Vaginoplasty price
With Turquie santé vaginoplasty price in Turkey comes in an all-inclusive package. To get a quote for the single procedure, contact our counselors.
We put you in touch with the best clinics and hospitals specializing in plastic surgery.
Labiaplasty in Turkey: Cost
Procedures like labiaplasty in Turkey cost less than their equivalents in Europe. However, they have excellent quality and a high success rate.
As the price of this type of genital aesthetics comes in a package, contact Turquie Santé advisors for further information. We provide you with our patient reviews to enable you to have more information about the procedures.
Share this page
Frequently asked questions
Absolutely not. A patient who had a vaginoplasty or a labioplasty may well give birth without any risks for the future pregnancy.
There is no danger to the hymen during a labioplasty. However, vaginoplasty is only for women who already had sex before.
After genital surgery, the patient can return to work after a week. She can also return to having sex and baths starting from the third week after the surgery.
The success rate of labioplasty or vaginoplasty in Turkey is 90%.