Before / After photo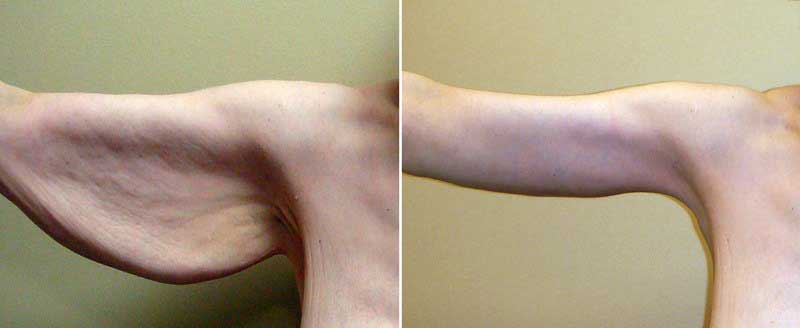 Over time, the arm can sag and lose its elasticity due to aggressive diet or pregnancy . As a result, The arm lift is the best way to correct the stretch marks and eliminate excess fat in a definitive way and thus gain a harmonious look on the entire area.
Arm lift: procedure of the intervention
Arm lift (brachioplasty or brachial lift) is a very common procedure that is required by many people. The operation lasts about two hours under general anesthesia with one night of hospitalization after the operation.
The brachial lift is about removing the amount of excess skin that is usually located inside the arms. In most cases, this procedure is accompanied by liposuction to get rid of fat.
Before surgery: At least two consultations with the surgeon are recommended two weeks before the day of the operation. During these meetings, the surgeon makes medical photographs of the arms as well as a detailed assessment to decide the type of arm dermolipectomy.
It is necessary to stop smoking and remove hair with depilatory cream or underarm wax.
Intervention: It is a painful procedure performed by an experienced practitioner and its duration does not exceed two hours.
Brachioplasty follow-up: After surgery, the surgeon puts a bandage that will be removed after two weeks. A little pain is felt after the arm lift with bruises and edema that will disappear after few days. Sports activities are strongly discouraged at least 1 month after the intervention. The scars disappear with time (about 6 months). Thus, the results are immediately noticed, but it is necessary to wait about 6 to 12 months to observe the final result.
Our partner clinics